Berries are coming into season and although we don't have any strawberries or brambles planted, there are alot of berry farms that allow you to come and pick your own.
Fortunately my neighbors Joe and Susan have red raspberries and they love to share! There are tons and tons of raspberries on the vines but you can only pick as many as are ripe that day. On Saturday evening Joe braved the bees and picked berries. Sunday morning before church Susan dropped some off for me.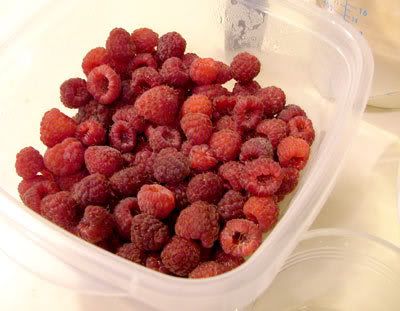 There was a little under 2 cups of berries and although that's not enough to make a pie, it is enough to make a Clafouti. A berry Clafouti is a custardy mixture that contains flour. As it bakes the flour sinks to the bottom and makes a kind of soft crust. It's delicious. You make it with any firm berries.
BERRY CLAFOUTI
1-1/2 to 2 cups fresh raspberries
3 eggs
1 cup milk
1/2 cup flour
1/2 cup sugar
1 teaspoon vanilla
1/4 teaspoon nutmeg
1/8 teaspoon salt
Butter a glass pie dish or quiche pan. Beat eggs until light and foamy. Add remaining ingredients and mix on low speed until smooth. Pour this mixture in the prepared dish and add the raspberrries. and bake 30-35 minutes at 350 degress F, or until a knife inserted in the center comes out clean. Sprinkle with powdered sugar and top with freshly whipped cream. Serve warm or cold.
Gather the ingredients.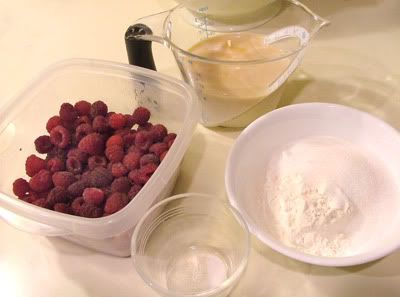 Beat the eggs until frothy. Add the remaining ingredients and beat on low speed until smooth.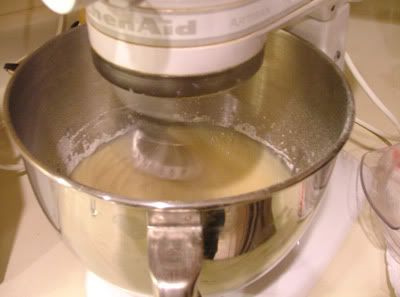 Pour the mixture into the buttered dish.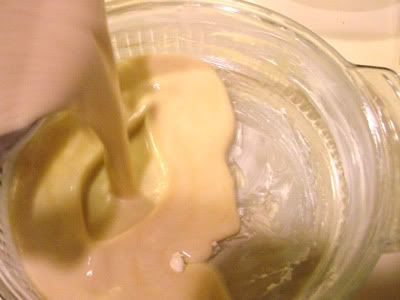 Jiggle the dish so that the berries settle into the liquid.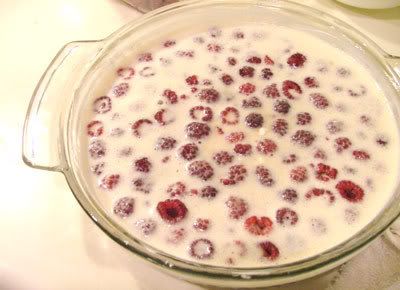 Raspberry Clafouti is delicious for breakfast!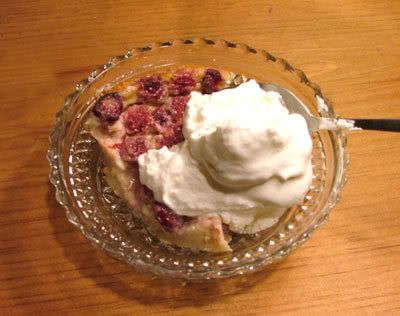 I'm going to research the dates for berry picking at a farm west of here. I'd like to take you on a field trip. I'm not sure my back or my knees will tolerate berry picking, but we can certainly try.
I'm in awe of my great-grandmother who picked cotton and stripped sugar cane with a machete, well into her late 80's! Pioneer women were certainly made of sturdier stuff than I.
Thanks for visiting today. Tomorrow we'll be up to more nonsense.