When I was growing up my grandmother and my mom had something called "pin money". After all the kids were fed, shoed and clothed whatever little money remained would be put aside for something extra that wasn't in the family budget. It might be an fancy apron, a special lamp or in my grandmother's case she had a custom bedspread made with her pin money.
It seemed to be universal at that time. My aunt, who lived in one of the most rural places I've ever visited, had "egg money" that she earned from selling the extra eggs laid by her flock of chickens. She finally saved enough egg money to buy a washing machine. I'm not quite sure what type of machine it was because they didn't have electricity.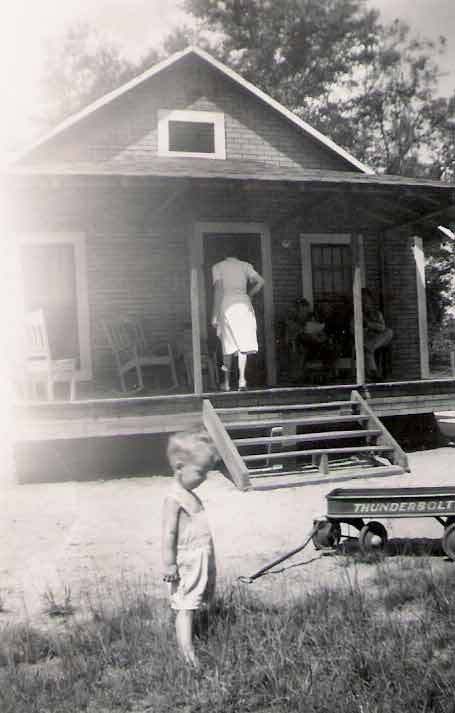 My aunt, walking back into the house. Cousin Jerry plays in the yard.
She made the mortal mistake of giving the egg money to her no-account husband who was going to town for the day. She handed him the money, wrapped up carefully in the sale advertisement from the newspaper. My mom was visiting at the time and warned my aunt that this was a very unwise move on her part. Like I said, the husband was what's called a no-account.
The day wore on and my aunt was giddy with excitement at the thought of having a mechanized means to lighten the load of laundry day. The hours wore on and my mom was dreading was was coming next. As darkness fell she caught a glimpse of someone coming down the dusty road. Yes, there he was....... in a junk car being pushed along by someone else because the car didn't even run!!!!
The husband felt that the non-running junk car was just what his family needed, not a washing machine! When my mom saw the car inch closer and closer to the house (well, it was really just a shack) she grabbed the no-account's loaded shotgun and positioned herself strategically on the porch.
Mustering up her loudest, most aggressive voice she bellowed down the lane, "Don't you come another inch closer. I've got both barrels loaded and I'm gonna shoot your car first, and then I'm gonna shoot you!"
"WHAT???? What'd you say woman?" he shouted back.
"You heard me. You're gonna lose a leg if you make me repeat myself. Get the hell outta here! Take your drunken friend and your dead car with you."
The no-account and his friend stopped and conferred. My mom had been born in the south but raised in Chicago. These two men didn't know what to make of it. Perhaps she was trained by the infamous gangsters who roamed the Chicago neighborhoods.
"You know I'm crazy enough to do it."
After a short conference they decided they couldn't take a chance on her sanity, so the parade of fools retreated down the road, back to town.
Of course it was just a short reprieve from the drama my aunt faced on a day-to-day basis. Although my aunt was married to a man with more than his share of baggage and problems, she never felt "oppressed". She just didn't. She was perhaps one of the happiest and generous people I ever knew. Perhaps feminists would say she was just stupid for not realizing that she was oppressed and unhappy and put-upon. Yeah, she was dumb that way.
I think she was just a person who didn't let a situation beyond her control get her down. In that time and place, without an education in the rural south there was no other option than to live your life the best you could. Perhaps if she'd been born 40 years later she would had "risen up against the man", but she developed a spirit that allowed her to be happy in a situation that would never be tolerated today.
Tomorrow we're going to continue our discussion of pin money because I'm saving a little bit myself. I'll show you what I've got in mind to spend it on. And no, it ain't a dead car!
Further reading on this subject:
It's All Over but the Shoutin' by Rick Bragg
Holy cow, I know every character in THAT book.