Thanks to everyone for participating in the "Stood Up" giveaway.
First of all, I wasn't really stood up. Next time I'll give everyone a heads up way in advance. This was kind of a last minute event and I thought some of my local readers might like to meet up.
There were some unbelievable "stood up" stories but none can top Sadie who was stood up at the maternity ward. OH MY GOSH. I certainly hope that the hospital staff was supportive and not just gossiping about what happened to you. One can hope.
I put all the names of everyone in my beautiful 25th Anniversary brandy snifter. No, this wasn't a gift on our anniversary. i fell in love with it at the Goodwill store. The silver is not printed on, it's actually a very cool raised design.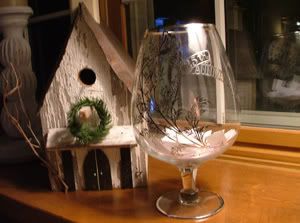 Anyway, in my low tech drawing.......... the winner is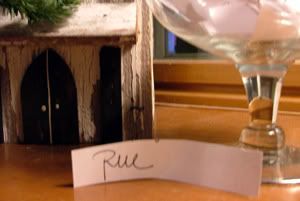 RUE!!!!!
I bet she'll be making peanut butter & jelly sandwiches with her new apron.
Congratulations Rue. Send me an e-mail.
Thanks everyone for participating.