I've got a little catching up to do, it's another version of Sweeping Out the Kitchen. There's just some odds and ends that need to be addressed.
NUMBER ONE
- Bowling Balls
Someone asked to see the underside of the bowling ball garden ornament. Here it is: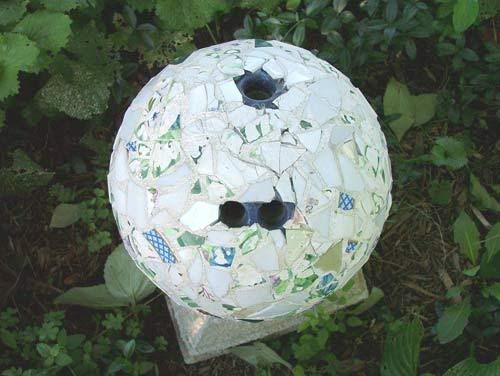 The idea is that you don't need to cover the finger holes, you just turn that side to the bottom and no one will ever see it.
NUMBER TWO
- Lazy People
I am of the firm belief that any terrific invention or shortcut was discovered by lazy people. How do I know? Because, regardless of all my duties around here I'm basically a lazy person. If there's a shorter, easier way to do something I'll work till I find it.
Remember when we did the bias tape tutorial? Well, I've been sewing lots of aprons and I was getting really, really sick of marking off all those little "ticks" and then connecting them. Disgusting task. So I slept on it and came up with the lazy woman's solution. I found a ruler that is 2 inches wide.
Here's the fabric with the diagonal crease:
I lay one edge of the ruler on the diagonal line, use the disappearing marker on each side.....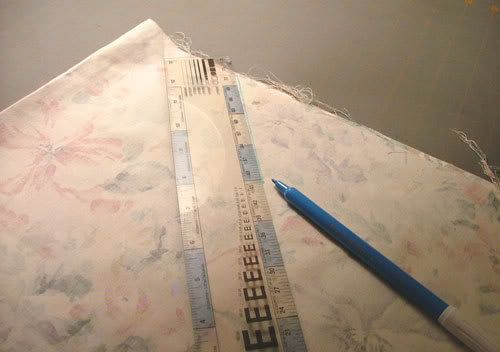 I move the ruler over
then I put the left edge of the rule on the line and mark again......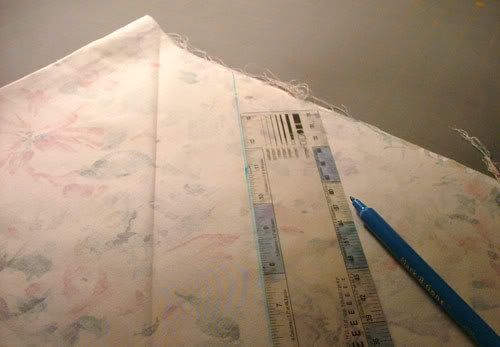 Someone asked me about what you do if you only need a smaller amount of bias. Just mark and cut as many of these strips as you need. If you need to sew them together you can just do a quick run through the machine till you have the correct length.
NUMBER THREE
- Heirloom Garden Show, Garfield Farm Museum, LaFox, Illinois
Aug 24 - 11 a.m.-4 p.m.
Rare and specialty fruits, vegetables, flowers and herbs are displayed and sold by Midwestern growers. Member participation by Seed Savers Exchange. $6/$3.
For all my local readers - please try to make it to the Heirloom Plant Show this Sunday at Garfield Farm Museum. It's a great gathering. If you're interested in growing heirloom plants this will be your chance to meet with and question the experts. My sister will be there representing the
Boone County Conservation District's heritage gardens.
I will be in attendance and I'll be packing some goodies in my vintage picnic basket. I'll spread out the quilt so join me at 12 noon if you can. I'm not quite sure what their set up is going to be for the day, but I'll try to be located behind the chicken coop. I hope to see you there!
That's the Catsup for today.
I personally want to thank the large "Amen Choir" from yesterday. Thanks ladies. We gotta stick together.