Yesterday I mentioned the disturbing trend that revealed itself when I downloaded the photos. Sure, there were plenty of photos of the beautiful countryside but many more of food. Unfortunately my photography discipline seemed to go out the window. I didn't have my camera with me at important food events. Although I will say that dinner guests get a bit freaked out when you're constantly snapping pics of the repast. Not to mention the weird stares when I'm taking shots of other people's food!
It's safe to say that we spent 8 days in The Land of the Fried and Home of the Brave. Traditionally southern food involves lots of frying and although it's not exactly what's considered healthy I know that my relatives ate this stuff every single day and lived to very ripe old ages. Of course they also worked hard in the fields and on the farm. A full day of picking cotton under the hot Florida sun will probably flush your arteries spotlessly clean.
Hurricane Ike rolled through shortly after we arrived and the power went out. We were in a part of Hot Springs Village that is always the last to have power restored. We had rented a condo with the thought that we wouldn't have to eat every meal out, but with no power and an electric stove we were soon trolling the countryside in an attempt to find restaurants that were electrified and open. The distances involved are not minor and this meant that right after eating breakfast we needed to hit the road again in search of somewhere to eat lunch. Heck, I felt like the Man Without a Country.
For dinner one evening we stopped at a family owned place called The Home Plate. Let the frying begin! I dined on chicken fried steak, fried okra, mashed potatoes and milk gravy. Seriously, good milk gravy is one of the four major food groups. Another one is pie.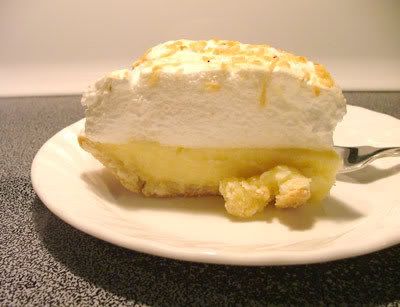 This was the coconut meringue pie from Home Plate. I've had many a coconut cream, but coconut meringue was something new to me. It was OK, not a contender, not even close.
This was followed by fried green tomatoes at The Last Chance. They were great. The best I've had. I'm wanting some right now.
Fried pickles at Sonic filled in a lull in the action. Then there was fried green bean appetizer at Molly McGuire's Pizza place. They were great. The fried onion blossom at Outback was a bit greasy. It appeared that they had skipped the step where you allow the item to drain well.
I'm sure I've missed something but my mind is in a fog induced by the homemade strawberry ice cream I made today.
I hope you're not sick of food yet because tomorrow we're going to visit one of the country's premier barbecue joints and a place in Missouri that serves the most outrageous amount of food EVER.