Some of my readers knew our destination, based on things I've said about the land we own and clues, such as "Alligator Farm" and "chopped pork barbecue and tamale spread". Our desination was Hot Springs, Arkansas.
We left home late afternoon on Friday just as Ike was blowing his way on to the Texas coast. We arrived in St. Louis hours later and I managed to snap a shot of the arch out the car window.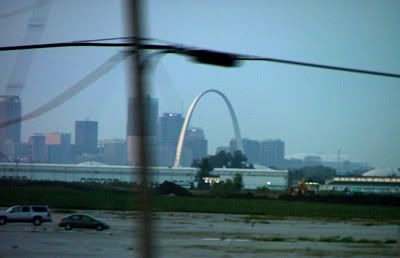 The Farmers assures me that the ride to the top is not for anyone suffering from claustrophobia.
A short distance later we crossed the Mississippi just as the sun set.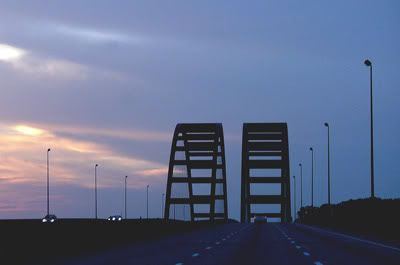 When we returned a week later the Mississippi would be flooding the surrounding land.
We stopped in Festus, Missouri for the night and dined on our first of many, many meals. The residents of Festus started quite a panic in anticipation of Ike doing damage to the oil rigs and pipelines. Someone started the rumor that gas would become scarce and everyone in town rushed the gas stations basically leaving the town high and dry and closing several of the stations.
After surviving the Festus panic we drove south through New Madrid which is the site of the worst earthquake in U.S. history. Yes, the most dangerous fault in the North American continent lies in the American midwest.
A short time later we crossed the state line into northeast Arkansas which is the flattest place I've ever seen. It makes Illinois look positively mountainous. The fields are filled with cotton. We didn't seen any rice planted during this trip but this area provides most of the country's rice.
Look what we found - a Stuckey's! I didn't know there were any of these places left.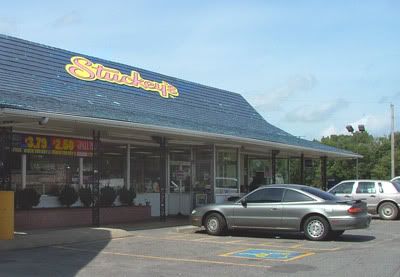 It was pretty dreadful and tired looking inside and out. This display left no question as to our location. It's an Arkansas Razorback, the University's mascot.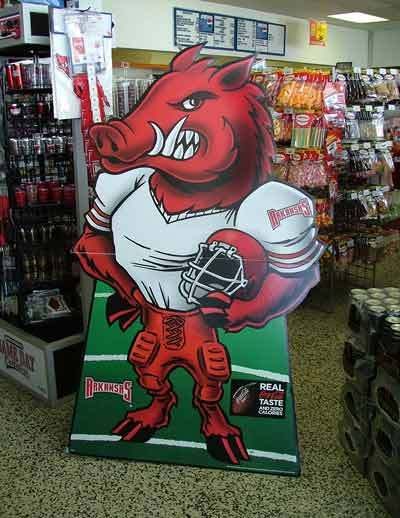 Oh no, what's this on the ground?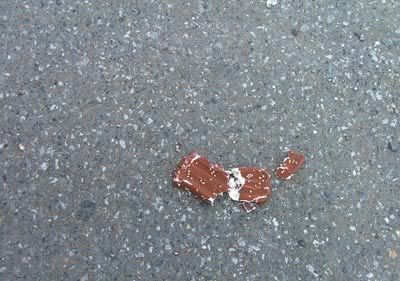 The Farmer treated himself to an ice cream bar and the minute he walked outside it proceeded to melt and plop to the ground.
The look on his face was priceless. He was crestfallen, just like a young child. Don't worry, he bought himself another one.
When I downloaded the photos from the trip a disturbing trend was revealed. It appeared that we were on a mission to eat our way across three states. We did a pretty good job in that regard. Be sure to check back tomorrow when we'll check out a contender for the perfect piece of pie and tales of Hurricane Ike's appearance!
NOTE: The post cards were mailed out last Saturday. Be looking for them any day now.