I'd have baked a cake!
Last week I returned home to find that my son's girlfriend was baking some cakes for her sister's birthday. The teeny-tiny stove in her apartment certainly couldn't handle the task. She told me that she was baking two cakes, a cherry chip cake and a chocolate fudge cake.
She told me that she was concerned though, because it seemed like there was an awful lot of batter for the pans. Hmmm, I said I'd take a look. We marched into the kitchen, opened the oven door and this is what we saw: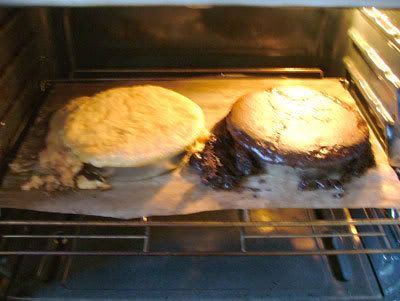 OOOPS......... Two cakes - two cake pans. I told her the equation should be two cake - four cake pans. We both busted out laughing and determined that these mega-cakes would never properly set up. I told her that she should run to the store for another cake mix and I would dispose of the cake masses in the oven.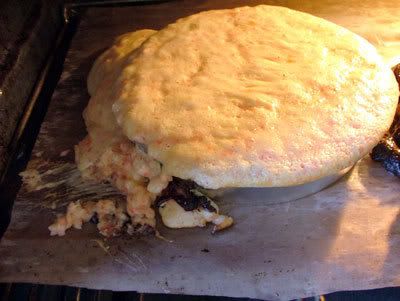 About this time the Farmer's Son enters the room, takes a look at the development in the oven and says, "Hey Gigi, seriously, you should have my mom teach you how to bake!"
I knew he was kidding but I wanted to make sure that she knew.
"Oh yeah. That's a great idea. Have YOUR MOM teach her how to bake. Have you looked up on the kitchen counter lately?"
All eyes riveted on the counter where the Pie-from-Hell had taken up residence.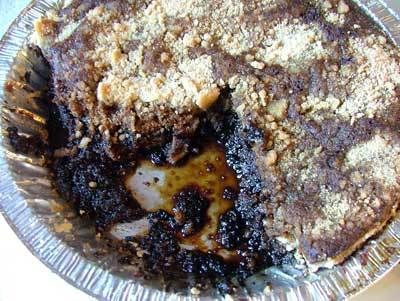 Yes, it's been here for a couple days and only the brave attempt a bite.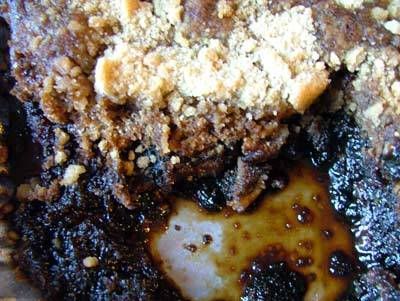 What is it? It's Suzanne McMinn's Shoo-Fly Pie. Unfortunately it called for molasses and I made the strange choice of choosing the black strap molasses I picked up in St. Croix. Black strap is very, very dark with a strong, distinctive flavor. I love it, but it's too much for Shoo Fly.
Actually it looks like some kind of science experiment, or nuclear waste material. If you notice the crust around the edges is totally gone......EATEN. My family would never leave a perfectly good crust uneaten!!
How about you? Are you known for being a terrific cook but willing to admit feet of clay at times? This Shoo-Fly was my downfall, but allowed me to show a young woman that very few things turn out perfect.