I no longer work outside the home, which I love. This situation allows me to take on the new role of administrative assistant for my family, and it's a role that suits me just fine.
Last weekend my daughter had a flat tire. Not just a flat tire, but a blowout. Luckily no one was hurt and luckily a police officer pulled up behind her and put on his lights making it safer to change that tire on the side of the road. Of course, she couldn't drive the 2-plus hours back home on the "donut" tire, so she took the Farmer's car and I took on the task of getting and new tire and having it mounted on the car.
I like to think I'm like a Boy Scout, always prepared. When I know I'm going to be spending some time in a waiting room I always take something along to keep my mind and my hands busy. For some reason I cannot concentrate on reading in a waiting room, so instead I take along some sewing, knitting or crocheting. For the tire change I took along a simple crochet project.
The yellow centers were all finished and I just attached the next color of yarn and finished each rosette.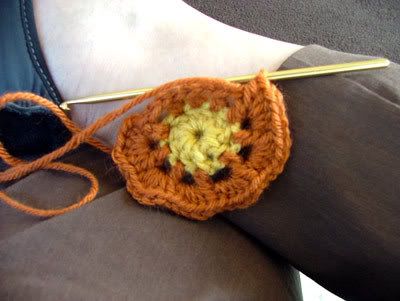 This is Vanna's yarn. I hate it. I love her color palette but her yarn simply does not hold its twist. It's maddening.
Guess how long it took to accomplish the tire task? Long. Long enough to finish six of these and still have time to stare at the walls.
Here's a small portion of what I keep in my purse. Scissors and tape measure are a must. I sometimes carry other tools. You never know. In my car I carry one of those window-breaking hammers which was a gift from my friend who also believes in being prepared.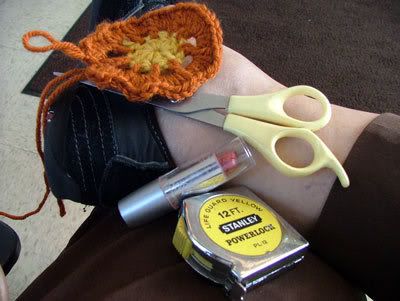 After the ridiculously long wait in which all the tire techs went to lunch, I decided that it was too late to think about cooking dinner. After conferring with the Farmer's Son we decided on hamburgers from a fast food place called Culver's. It was just next door to Farm & Fleet where I'd bought the tire.
The Son says to me, "Mom, instead of fries, get me the cheese curds."
Cheese curds??? They have cheese curds? Well, I should have known, because after all Culver's is a chain from Wisconsin!!!
Since I've never eaten the county fair version of cheese curds, I don't know whether these would stand up to a comparison, but they were good.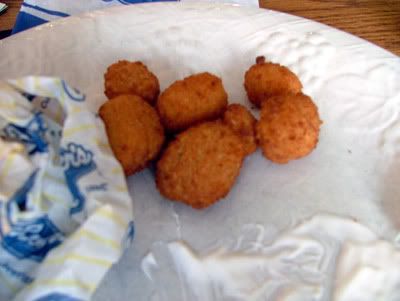 A look inside shows that they fry up both cheddar curds and what looks like mozzarella curds.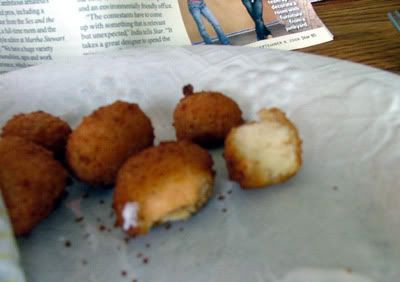 They're very good dipped in ranch dressing. But then again my family dips everything, including pizza, in ranch dressing!! I;ve got a recipe to make them at home which we will try in the near future. I've got to get over to Woodman's food store (another Wisconsin based company) and buy some fresh curds. Woodman's cheese case is about 40 feet long!!!! I am NOT kidding. They are very serious about cheese.
I'd love to hear how you handle those long waits. Do you take along a book or something to keep your hands busy? Maybe you're one of those who reads the gossip mags and catches up on all the celebrities.