The Postcard Project is something I started when I first connected with the internet about 10 years ago. There was no such thing as a blog back then but I was involved with a forum that was made up of an online community of gardeners.
The Farmer and I had planned a vacation somewhere, can't even remember where. I knew how much I always loved to get postcards from people who were traveling, especially when I was a stay-at-home mom with no prospects of going anywhere except to the pediatrician. And so the Postcard Project was born.
I told my online friends that if they wanted to participate I would send them a postcard from our vacation spot. You know the typical........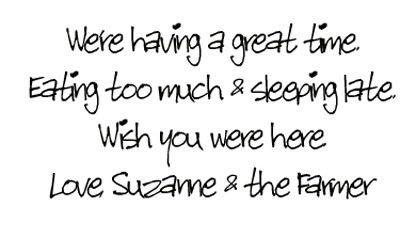 It was quite popular and became a tradition through the years. Some of you participated last spring when the Farmer and I went to St. Croix. Those participants can attest to the fact that I won't sell your names and addresses to Publisher's Clearing House. In fact, after I send off the postcards I shred the addresses and made a nice omelet and eat them!!!
Next week at this time the Farmer and I will be leaving town for a week's vacation. I will once again be hosting a Postcard Project. Please e-mail me with your address and I'll add you to the list.
All I ask is that when you receive your postcard, you take a moment and feature it on your blog....you know, "Oh, look!!! I got a postcard from the Farmer's Wife."
I won't be disclosing our destination, that will be a surprise. It's not anything exotic this time around. Just some nice relaxation in a place close to our hearts. I will say that there's an alligator farm that I plan to visit.
- - - - - - - - - - - - - - - - - - - - - - - - - - - - - - - - - - - - - - - - - -
When I was a kid the best part of vacation was choosing some cheesy souvenir. Ninety-nine percent of the time it was something really cheap and totally useless. And so, in addition to the Postcard Project I'm adding a giveaway.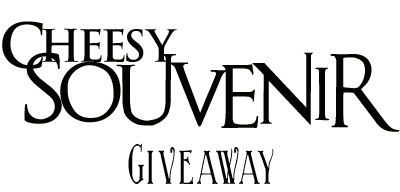 That's right!!
! I'm going to search high and low during this trip, in search of the cheesiest souvenir ever. You never know, you might win a hand-carved coconut monkey, a colorful sombrero or a shot glass.
You have until next Wednesday at midnight to participate.
Remember, e-mail me your mailing address for the Postcard Project. My e-mail address is:
Abscissa63@aol.com
Leave a comment here to be included in the Cheesy Souvenir giveaway. And hey, while you're at it tell me about the chessiest souvenir you ever received or bought yourself.