Downsizing at the newspaper, and the loss of my job has allowed me to indulge in one of life's greatest pleasures. I can wake up each morning without the blare of an alarm, and indulge in morning routines.
Generally I am not a person who likes routine. I'm a spur-of-the-moment kind of person. The neighborhood ladies go to exercise classes in the morning and I've declined to join them. I certainly need the exercise, but after many, many years of having to wake up and be somewhere I luxuriate in the fact that I don't have to be anywhere on a regular basis.
This morning I invite you to come along on my morning routine.
- First we let the puppies out of their crates. From left to right: Pancho the Neurotic Chihuahua, and Cisco the Strange, alternately known as Little Boy, Little Black or Bat Dog.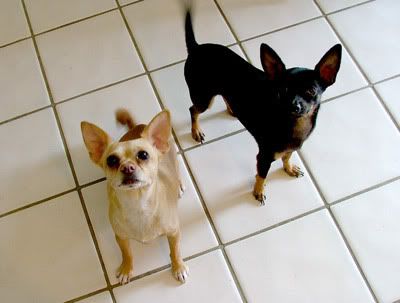 - Immediately let them outside, scanning the horizon for coyotes first. (No joke, the very rural dog park has a sign that warn about coyotes).
- Feed the dogs.
- Make the coffee using an archaeological artifact from the mid-1900's. A recent young houseguest was going to make coffee for the family but had no clue what to do with this contraption. Do you remember this from your grandma's house?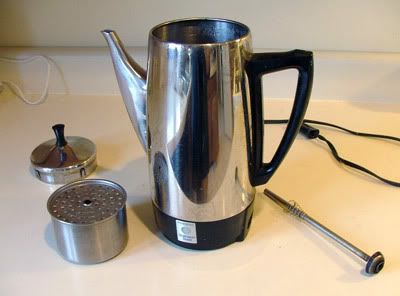 - Walk to the office and turn on the computer. Check Sitemeter for daily numbers. Check "Who's On" to see if my friend Diane in Maryland is listening to my playlist.
Walk back to the kitchen and get a cup of coffee. Sit back down at the computer for the morning read. This had replaced reading the newspaper in a lot of people's lives. This explains the downsizing of newspapers.
What's that??? Oh, I didn't tell you that the Farmer got me the Spaceship? He did!! What a guy. Spaceships and sapphires. Oh yeah. The second computer is my old PC that has the Photoshop program installed. I sure don't have the $$$$$ to buy the separate Apple compatible version of Photoshop. I call this my Grand Array.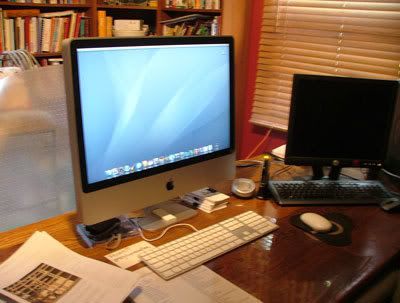 - I pull up my bookmarks page which is ridiculously long. I must do some housekeeping. The next site I visit every day is something that has been a ritual for many years.......
ASTRONOMY PICTURE OF THE DAY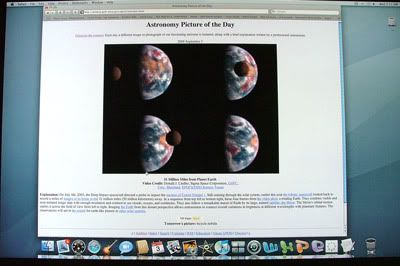 Check out the archives and prepare to be wowed. My favorite is always the deep space photos, and Jupiter's moon Io.
- I click on my own site to make sure publishing was accomplished. (I write most of my entries the night before and publish at 2 a.m.)
- Read and answer e-mail.
- Ping Technorati. I quit checking those Technorati numbers. I'm just glad to have risen above the 5,200,000 mark. Anything above the bottom 5 mil is good for me. HA.
- Open my Bloglines feed list and start reading those that have been updated. I have 131 feeds in my list and it's growing daily. It may sound like a lot, but very few people update daily and that makes it more manageable. That reminds me, I do need to update the list of links on my sidebar. Why do we always forget to do that?
I'm happy when I see that my favorites have updated. For a laugh or two I always visit this site. She updates several times a day. OMIGOSH....I swear I toured some of these homes when we were house shopping. Check her archives for more laughs.
IT'S LOVELY, I'LL TAKE IT
Want to complain about the difficulties of your daily life? Go over to Yoani Sanchez's place and read about life in Cuba. This is a chronicle of how dissidents are born and a life we cannot imagine.
GENERATION Y
I love all of you, but I'm especially drawn to international blogs simply because the Farmer and I love our adventures!
TRISH IN HONDURAS
(Missionaries)
JILL IN CHANNAI, INDIA
(Federal employees)
TRESSA IN NORWAY
(She's just a hoot)
Can't forget to visit Canada. Those Canucks get upset if you ignore them. Eh?
LIBERTY HAS A HOME IN CANADA
and a daugher in Egypt!
- Then I return back the U.S., check out more blog updates, check the e-mail again.
- It's sad that a fully grown, fairly well-educated woman would waste time on such an activity but here it is.......I land here for at least 30 minutes.
ADDICTING GAMES KEY MASTER
After about 30 minutes my mind kicks in, reminding me of everything that must be accomplished. Reluctantly I start the laundry.
Do you have a morning routine? I'd love to hear if you have any similar routines/addictions.
Have a great day and thanks for visiting.