After the Tin Horse concert I flashed my Pony Pass to their security guy and got invited onto the tour bus. It was a real pleasure to sit down with them and talk about the band.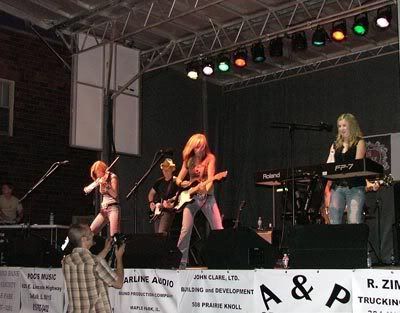 HOWEVER, they turned the table on me and interviewed me. OK, I guess they didn't know that photographers hate having their photographs taken and interviewers hate being interviewed. It was quite a switcheroo to be on the other end of the questioning. Antje (ahn-cha) is quite persuasive. She got me to agree to bring a Sawdust Pie the next time I see them. She also got me to agree to make aprons from Tin Horse shirts AND to find an appropriate farm setting to do a music video. WOW, I've got my work cut out for me now.
Seriously, it's so wonderful to meet people who are pursuing their dream and having lots of fun doing it. They all get along and assured me that life on the tour was so much fun. They not only tour locally, but recently they went down to Biloxi, Mississippi, stopping in Nashville on the way back.
The bus is very cool, with a front and back lounge. The sleeping berths are in the center area and if I counted correctly it can sleep at least 12 people.
Antje informed me that they have a fan named Joan who brings along homemade cookies when she comes to their performances. And not to trigger a rivalry I assured her that there's always room for pie.
I kept seeing this guy all evening. See him taking pictures of the band?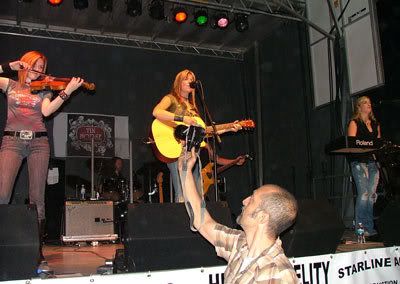 I remembered seeing him earlier in the evening during the sound check.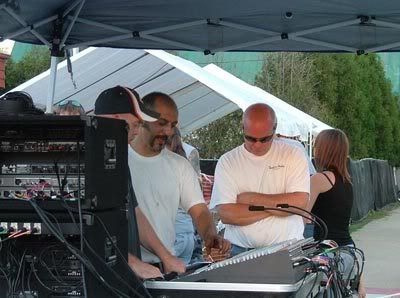 A little later he was walking through the crowd selling CD's. Later, he was standing next to the bus. I put out my hand to introduce myself and he declined. His hands were dirty from doing a minor repair.
So let's get this straight.....
- he helps with the sound check
- he takes photos during the concert
- he sells CD's during the concert
- he helps break down the equipment after the show
- he repairs the bus
But wait, he tells me that he also drives the bus!
He's the new Renaissance Man - -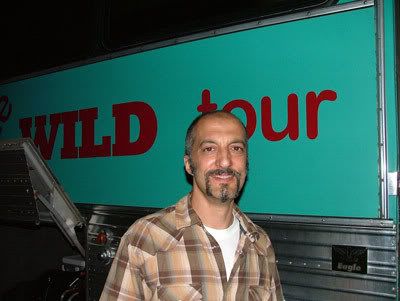 He's their manager Andy.
And this is what's so great about a group like this. What happens on the stage is simply the tip of the iceberg. Being in a band, publishing a blog or running a household means being responsible for hundreds of little details. In the case of the band there are hours of writing new material, weekly rehearsals and a lot of behind the scenes work. A tour is a daunting logistical challenge. Like I said, the 90 minutes on stage probably reflects many, many hours of work on the part of everyone in the Tin Horse family.
Congratulations and kudos to a truly talented and fun group of people.
Thanks Tin Horse!
NOTE: After yesterday's post it occurred to me that you're going to be very disappointed. I didn't really take any pics of the inside of the bus!!! I know, I know.... but the way I figure it is that this was there personal space and I didn't think it was very polite to take photos of their bedrooms! Next time I'm on the bus (when I deliver pie to the band) I'll take a photo of their front lounge. Let's just say that it's decorated in sort of a southwestern theme. I'm sure the band had a police dog check it out to make sure Willie didn't leave anything behind. Tin Horse is, after all, a family-type operation.

Here's the one and only photo from inside the bus. Let me tell you, it's positively demoralizing to stand with these really beautiful women!!!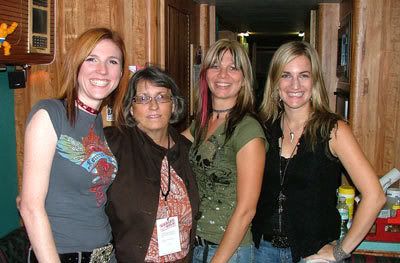 UPCOMING SHOWS
Sept. 5 - Lena, Illinois
Sept. 6 - Munster, Indiana
Sept. 12 - Sauk Village, Illinois
Sept. 13 - West Dundee, Illiniois
Oct. 25 - Merrionette Park, Illinois