Let's go to a concert!
Last Friday night I had the chance to meet up with Chicago's country music band, Tin Horse. After agreeing to the position on my Peep List as the Official Blog Band they sent me a package of goodies including a CD, poster and a Pony Pass.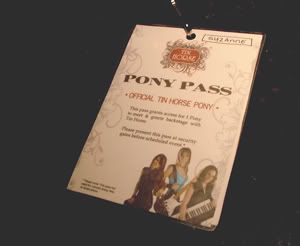 A Pony Pass is a backstage pass and I put it to good use. The band was appearing at a festival in rural Maple Park. I'm only 9 miles from anything, but Maple Park is at least 10 miles from anything. I arrived a little early to find this stage had been erected. I wonder where you go to rent one of those.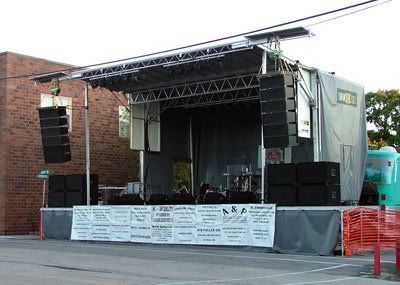 Yep, there's the turquoise tour bus hiding behind the stage. This bus once belonged to Willie Nelson and then it belonged to Shania Twain. This is definitely a country music tour bus with some history behind it.
Maple Park is a very small town, only six blocks long. The police had the street blocked off for the festival but this guy must have snuck around the barrier. He's the littlest Tin Horse Fan.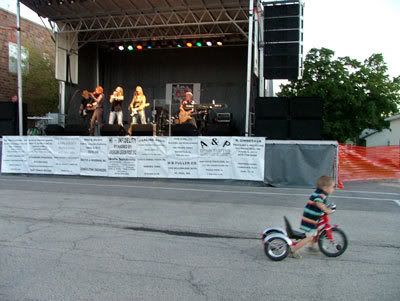 The ladies and their backup band took the stage and started rocking.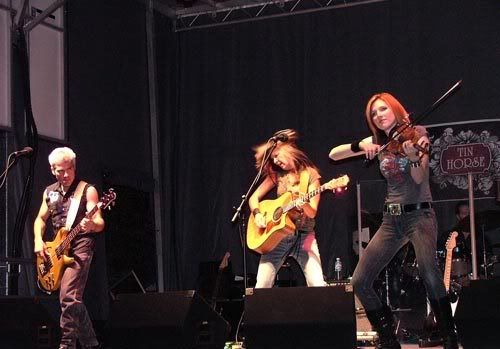 Let me introduce you to the band members.
Andra is the fiddle player.
Antje plays guitar.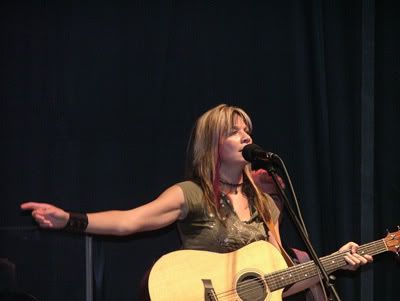 Caroline is on keyboard and also plays guitar.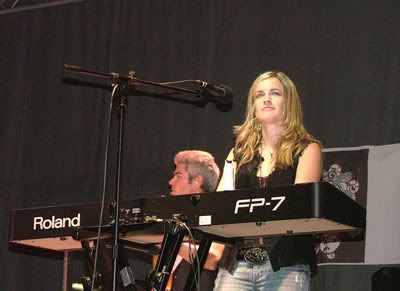 Here's Francis. He plays the bass and he channels Elvis I think.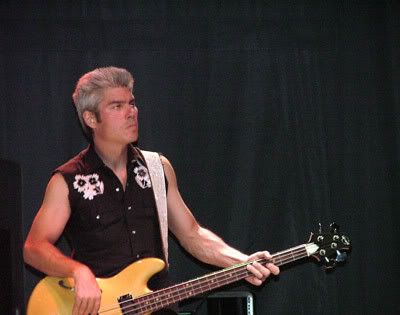 Kevin plays a mean guitar.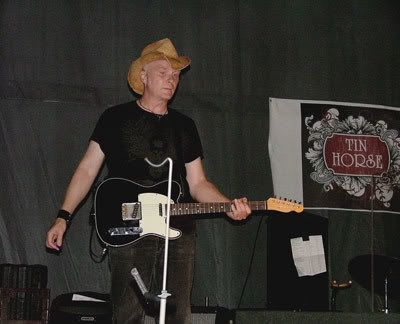 Kirk is on the drums but I couldn't get a picture of him because he was hiding behind a force field. He's behind there somewhere.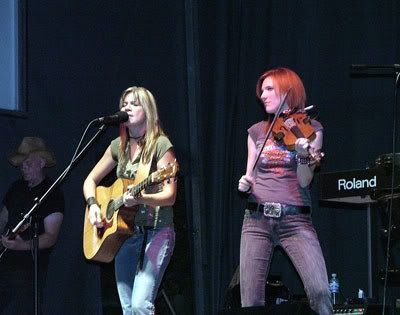 The entire show was very high energy. For an hour and a half they played non-stop, a good mix of original music and covers. You can listen to some of their music on their
My Space page.
I love their original song, "Delilah", and their version of Copperhead Road.
Tin Horse Website
Please come back tomorrow because I'll tell you about what happened after the show...... Yes, we're going on that tour bus!