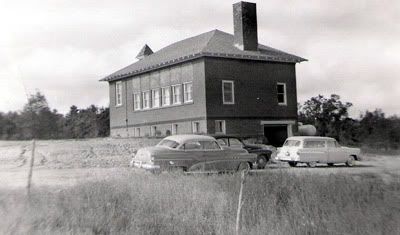 The time: Late 1950's
The place: Near Rice Lake, Wisconsin
I've mentioned my grandfather's one-room schoolhouse many time, and here it is!
As you can see it wasn't one of those small schoolhouses, it was quite large. It was large enough to allow conversion into an interesting two-bedroom retirement home. The bedrooms were smaller but there was a large living room with a desk where my grandfather worked on his stamp collection and wrote in his journal. There was a kitchen, a bathroom and a minnow tank in the basement. Grandpa Louie was a big fisherman.
I notice that the windows were altered and reduced in size. Perhaps in this era of loft rehabilitation the high ceilings and very large windows would have been preserved.
And for the endless enjoyment of the grandchildren there was a bell in the tower. We'd be allowed to pull the rope and pretend we were calling the children in from the school yard.
My sister and I are going to attempt a road trip in the fall in an attempt to find the schoolhouse and visit the cheese curd capital of WIsconsin.
Exciting stuff!
For those sleuths among you (
Heidi, The Milk Man's Wife
), the plaque over the door said Pine Hill School and it's somewhere in the vicinity of Rice Lake/Cumberland.