Last Sunday Garfield Farm Museum held their annual Harvest Fest. Unfortunately it rained, not a downpour but a heavy drizzle that dampened both the atmosphere and the attendance. The volunteers braved the elements with the aid of some sturdy headgear.
These young volunteers took the cages of Java chickens inside and watched the rain through the barn door. I think this image is quite charming of the two girls sharing some time together on a rainy Sunday afternoon.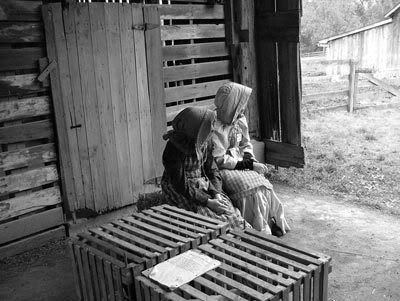 The photo made me wonder about my childhood friends, those long ago companions with whom I shared a classroom and friendship.
Carol and Alice had an older father who owned a tavern and I remember that their family was different. Many years later in hindsight I realized that their dad was an alcoholic. I would see him in the morning as our day of playing outdoors was about to begin. He'd be standing hunched over the kitchen counter, staring down a percolator waiting impatiently for the coffee to brew.
The Faillo girls would be summoned home for lunch at the sound of their mother's distinctive whistle. Mrs. Faillo would stand at the door and purse her lips together..... high, low, high low, calling her brood home in a sing-song fashion.
The Munson's lived on the next block and they were the golden children with their drop dead gorgeous nordic looks and stylish clothing. For the life of me I cannot remember what their dad did for a living that allowed them to be the best dressed and best shod in town.
Barbara was my best friend and we shared many secrets as we paced off the blocks back and forth between our homes. Winter evenings would find us ice skating in the park, lit only by the street lights.
Our family moved when I was in high school and all those neighborhood pals with whom I spent so many hours drifted quickly away. It was a lifetime ago, but I've never forgotten the peaceful feeling of spending a rainy Sunday with a childhood friend.