When I was younger acquiring things had a magic all its own. Collections were amassed with great gusto and it all seemed very important and satisfying. As young newlyweds the Farmer and I were thrilled to find an antique oak ice box in pristine condition. It was soon followed by more antiques, books, porcelain dolls, rabbits and any number of other crazy collections.
Menopause brought on another chapter in life, one that I will title "Divesting the Heavy Load". As I aged it felt like all the stuff was weighing me down mentally, physically and emotionally. It was beginning to fry my brain even thinking about what was lurking in cabinets, closets, boxes and desks. My need to simplify my life took on an urgency and I became Goodwill's new best friend.
The antique ice box which once was a prized find had become a very, very heavy albatross. Divesting yourself of a lifetime of stuff is not an easy task. I swear this stuff breeds at night when I'm not looking. What else could explain 23 casserole dishes in the kitchen cabinets? I could be a one-woman pot luck dinner.
My task is made more difficult by the fact that I live with the Other Mother who has never gotten rid of anything. EVER. And I'm not kidding. She has the iron and ironing board that she received as a wedding shower gift almost 70 YEARS AGO!! And no, the iron does not work and the ironing board weighs 25 lbs.
The nice men who came to install the drywall in the basement must have thought I'd lost my mind when I started asking them whether they knew anyone who needed a few things. Hey, they had a truck and I needed it gone. They said yes and the next thing they knew their pickup truck was loaded to the gills with wing chairs, an old cedar chest, lamps and much more. They were thrilled and I was even more thrilled.
The divestiture (on my part) is going well. I'm feeling infinitely lighter in spirit. I've done well in all but two areas, books and fabric. It's impossible for me to part with a book, unless it's the Farmer's copy of U.S. Tax Codes from 1983. I didn't shed a tear over that one leaving the house.
Fabric is a priceless commodity to me. It represents possibilities. A single length of fabric can be transformed into any number of fabulous items. It's difficult for me to toss even the smallest piece of fabric into the trash because my mind is always thinking about what could be done with that little bit.
My fabric stash is pretty ridiculous. This is just a small portion that resides in my in-home studio.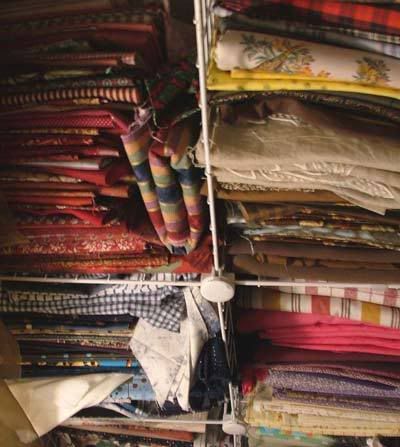 My fabric stash overfloweth.
Every so often I take the time to neatly fold and colorize but the gremlins soon appear and mess it all up again. There's a large cabinet downstairs filled (two rows deep) with folded lengths of cloth.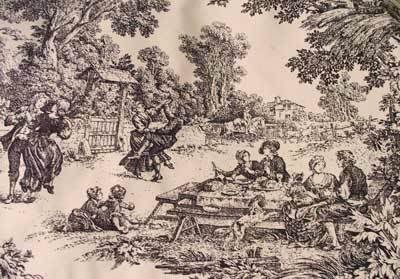 These "Toile people" look way too happy.
Oh, and then there's the extra large plastic containers filled with more fabric.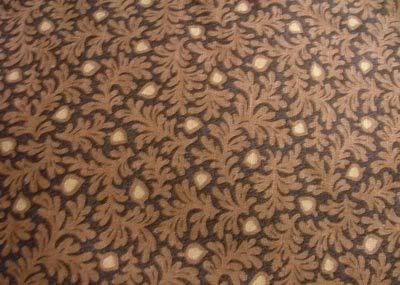 A favorite antique reproduction print.
If I'm ever forced to live in a cardboard box it's going to be outfitted with a bookcase and a storage rack filled with fabric.
Are you divesting yourself of the dead weight? What's the one thing you'd never do without?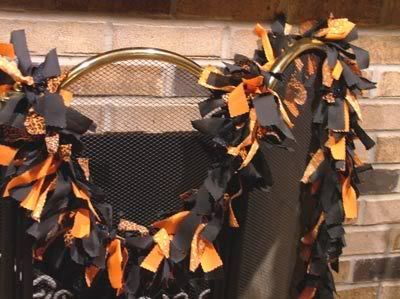 Halloween garland made from fabric scraps.
This garland can be made for any season. Make one for yourself.
MAKE A RAG GARLAND