The bad news is that there will be no gingerbread house contest this year. I was beginning to get a little panicky because the contest is normally held the first weekend in December and I needed to get moving on my design. The creative juices were flowing but nothing had jelled mentally.
Chef Alain Roby and his wife Esther have hosted the event for the past two years. This year Chef Roby has previous commitments. This is very understandable since he is a world class pastry chef who has been inducted into the Pastry Art & Design's Hall of Fame. You might have seen him on TV because he's appeared on the Food Network Challenge and made the Guinness Book of World Records by constructing the world's largest chocolate sculpture.
Hopefully Alain and Esther will take a breather and be back next year.
The good news is that everyone seems enthusiastic about a gingerbread house tutorial. I'll be putting it together in the next two weeks and I'll give you plenty of notice so that you'll be sure to clear your social calendar and join me. Believe me when I say that producing a gingerbread house for the competition is very stressful but now we can just have some fun together and not worry about winning!
I thought you might like a look at the house I made for the first competition.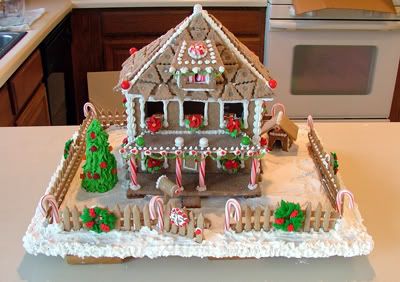 I really loved this little house and I had lots of fun with all the details including the dog house and little puppy prints in the snow. I was nearing completion of the house when I stood back and said, "It's just missing something......a picket fence!!" I proceeded to stay up until 3 o'clock in the morning cutting and baking hundreds of pickets and fence posts.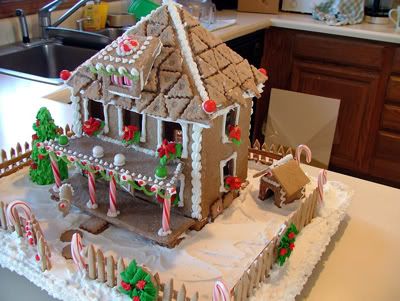 So, get your aprons laundered because in a couple of weeks we're going to do gingerbread!