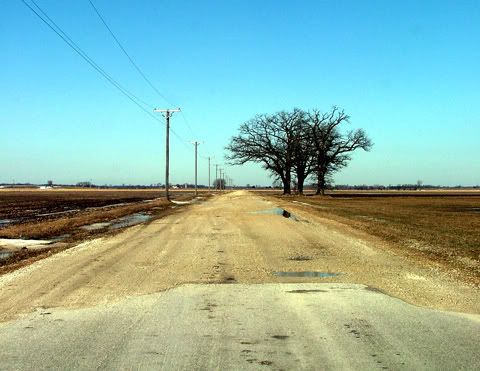 Not far from here the pavement ends and in it's place a gravel road stretches off into the distance.
It's a dusty drive in the summer and trecherous in the winter. In the spring when the ground begins to warm it's transformed into a dangerous slippery clay that will literally suck in a vehicle up to the axles. Cell phones are simply a required piece of equipment especially in sub-zero temperatures.
All the roads in our small village are paved but it is also our responsibility to maintain those 7 miles of roadway and that's a struggle. The village patches as best we can but have never had the type of money required to repave. Unlike the big towns we only have two businesses and only one generates sales tax revenue. A week ago that gas station and minimart shuttered it's doors and we're back at square one.
Given the option of having strip malls within our village limits or struggling with our budget, I'd venture a guess that most residents would choose the struggle.
Living in the country isn't for everyone. And technically we are very close to large population areas, but we still maintain a very low, rural profile.
Daniel Boone said, "When you can see the smoke from your neighbors chimney, it's time to move."
My question for you is, do you live in the country? Do you long to live in the country? What do you think it would bring to your life? I'm curious as to what people are looking for in their lives that draws them to idea of living in the countryside.