What's Stuffology you ask? It's the study of
"stuff"
, how it's accumulated, how it weighs you down and how to get rid of it.
After the flood last year we arranged to have our garbage company deliver a large dumpster. The conversation went something like this:
"Hi, I'd like to have a large dumpster delivered for some demolition materials."
"Ok, we have small, medium and large."
"Large, definitely large."
"Are you sure ma'am, the large container is as big as a bus."
"Sheesh, don't you have anything bigger?"
In fact we filled that big-as-a-bus container to the brim, not only with wet carpet and drywall but also with every manner of broken and useless stuff. It was cathartic and I was hooked on the branch of Stuffology known as
de-cluttering
. You would have thought that the cubic yards of items we put in that dumpster would have made a significant difference. NO!
I opened closets and looked with new eyes. One-by-one I emptied closets and rearranged taking carloads full to the Goodwill Store. I soon became their new best friend. Still, the sheer volume of stuff didn't seem to be affected. Suddenly it occurred to me that something wierd was happening. I think I've got it figured out.
IT BREEDS AT NIGHT WHEN I'M NOT LOOKING!
I'm totally serious. This stuff is breeding. How do I know? Here's the latest pile to be delivered to the Goodwill.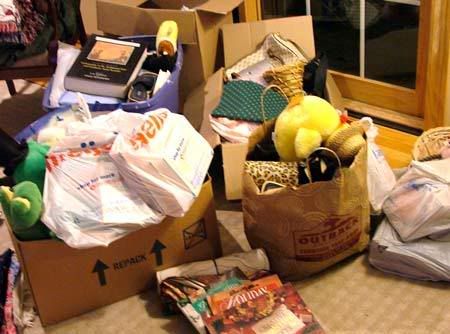 When I went to bed last night there were bags of books and a stuffed yellow Duckie. But when I woke up this morning there was one more item - a book on how to
make
stuffed yellow Duckies.
I rest my case.
I don't need a sporty little sedan, I need to convince the Farmer to get me a big pick-up truck. With more carrying capacity I can possibly get ahead of this breeding colony. Get it out of here quick, before it breeds, that's my new mantra.
I did grant a reprieve to one of the books because I thought one of my readers would be interested in it. I know alot of you say that you don't sew. This is perfect for you. It's called "Sew No More Holiday Decor". That's not just Christmas either, the projects cover all the major holidays.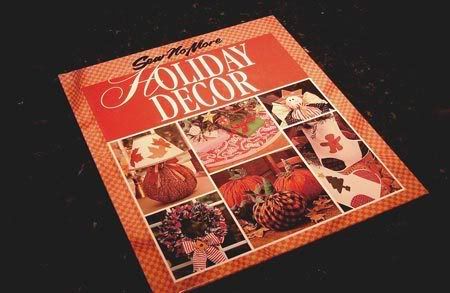 So, must leave me a comment letting me know you're interested. I'll pull a name on Monday.
Wish me luck. I'm setting up motion detector cameras this evening to try and catch this stuff in the act!!