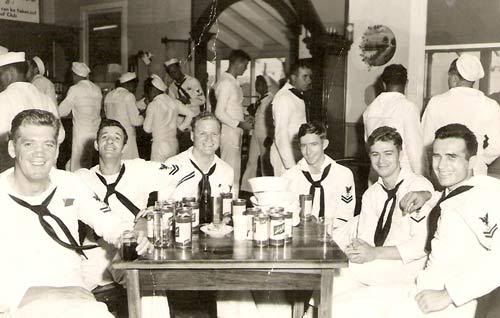 The time: Somewhere between 1943 and 1952
The Place: A bar, somewhere
Since we just observed Veteran's Day I thought this might be an interesting photo to share. My father in on the far right. The back of the photo reveals a few names but no identifying date. This could be anywhere between 1943 and 1952. My father as not in the Navy for that period of time, he served twice, once in World War II and was activated from the reserves to serve again in the Korean War.
It appears that these men have done their best to keep the brewery's busy. None of the appear as if they've overindulged, they're just out having a good time on shore leave. It's summer because they're wearing their dress whites. I've looked this photo over carefully and there's not one civilian in the shot.
It's amazing how much about a personality can be revealed by the face.
Look at the guy on the right.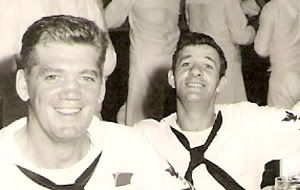 The guy on the left looks like a farm boy to me, and the one on the right is shy.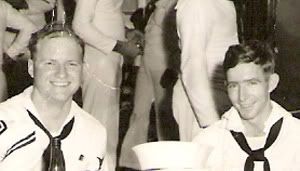 Notice that the guy sitting to the left of my dad has his hands folded in his lap. It appears he's not too comfortable sitting in a bar.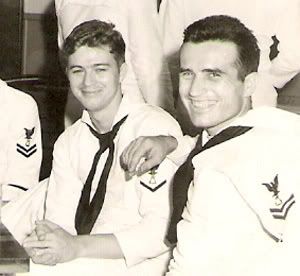 My dad's broad smile in this photo took me aback. I was stunned that the facial expression reminds me so much of my nephew, his grandchild.
We can't deny our ancestors because we carry them around with us each and every day. Every time we smile we broadcast a bit of the past. Do you notice resemblances between generations? Sometimes it's stunning.
NOTE: This week the MIlitary Channel ran documentaries about Veterans returning to Vietnam, Iwo Jima, Bataan and Corregidor. My hometown held a Bataan Day parade every year to honor those who were forced on the death march. In those days young men from a town were assigned to fight in the same company. In the case of Bataan it meant disaster for the community. Survivors marched but few talked about their experiences. Also, seek out a documentary called "Vietnam Nurse" hosted by Dana Delaney. It was beautiful and sad and heart rending. It's important for us to bear witness to their experiences. They talked about the young men with such reverence and love. It was amazing. Their treatment when they returned home was an utter disgrace.