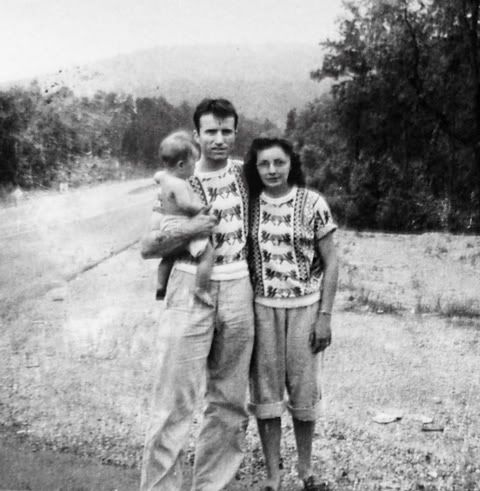 1948 -
Somewhere on the road south to the Florida panhandle.
Many who served in World War II were simple farm boys who'd never traveled more than 10 miles from home. My father had left the farm to live with friends in the city, allowing him to finish high school. Some of the soldiers and sailors had never owned a pair of proper shoes until their military service.
My dad was on ship in the Sea of Japan for the signing of the peace treaty a piece of history to which he will always be linked, even if it is only - "I was there."
The young men returned home after experiences (good and bad) that stagger the mind. My uncle returned to the peanut and cotton farm where he still lives. My dad returned to the city and started a family. They saved money to buy one of those small ranch houses built by the thousands for the returning veterans.
Plans were put on hold for awhile as he was called back into the Navy to serve in the Korean War. I never once heard my parents complain their lives interrupted. It was service to your country... a tithe for all the freedoms we enjoy.
I offer my greatest respect for my dad the veteran. He never had a high powered career or made a million dollars. He gave us so much more - a pattern on how to live your life - honesty, hard work, and charity - giving of yourself and your resources to help those less fortunate.
For a country boy, you "done good".
(Note: This is republished from my photoblog "The Farmer's Wife")