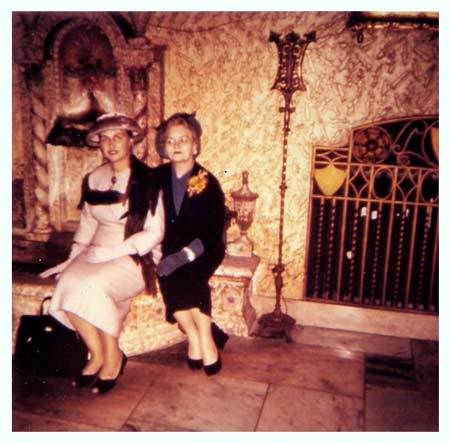 The time: Circa 1958
The place: The Hotel Baker, St. Charles, Illinois
I'm guessing on the date of this photo but certainly it's in the mid to late 1950's as evidenced by the clothing and the hats!
On the right is my grandmother Martha Anne, seated with her friend, also named Martha. They were both milliners and had vast hat wardrobes. They loved nothing better than getting all dolled up and going out on the town. In this case it was to enjoy brunch.
The Hotel Baker is still standing and has recently gone through a multi-million dollar makeover restoration. It's a stunning example of the Moorish architecture popular during the 1920's. It's only about 12 miles as the crow flies from our home and they still serve brunch. I invite you to look at the video of the hotel. Although this was certainly produced as a marketing piece for the property, it also includes some spectacular views of the beautiful Fox River Valley. St. Charles is typical of many lovely river towns up and down the Fox.
The Hotel Baker
from
Hotel Baker
on
Vimeo
.
The commentaries found on the back of a photo are sometimes more interesting as the front. My grandmother and my mother both had their say on this image.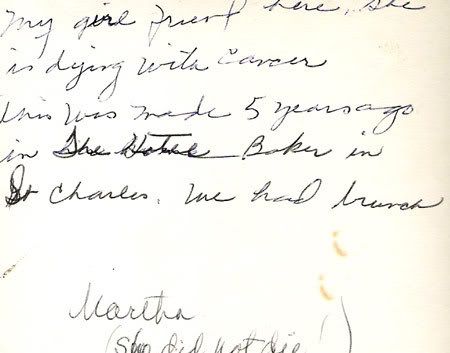 At the top in my grandmother's handwriting it says, "My girlfriend here. She is dying with cancer. This was made 5 years ago in the Hotel Baker in St. Charles. We had brunch."
At this point I'm thinking, huh? I can do the math and she must have wrote this in 1963. Dying of cancer? I know for a fact that she lived until 1978 or 1979.
In my mother's handwriting it says, "Martha (She did not die!!"", and indeed she didn't until many years later.
Relationships between mothers and daughters can sometimes reveal themselves in the comments on the back of photographs.