My sincere thanks to everyone who commented on yesterday's post. You are such a creative and make-do bunch! I am so lucky.
I had bought a can of black spray paint the day before for the purpose of refreshing two iron candleholders. I had entertained the idea of painting the mat but wondered whether than would work. Your assurances have inspired me to try this solution.
I'm even more amazed at the vast sea of knowledge that flows through the internet. I'd wondered about the large hotel pictured in the etching. I purchased the artwork because it reminded me of a beautiful old hotel we'd visited many years ago in Waterton Park in Canada. This hotel was the stuff of legends, with a string quartet playing in the lobby and high tea served in the drawing room. Believe me, we were too poor to actually stay in hotel but it provided me with things to dream about back in my pup tent.
The building was identified as the original Cliff House in San Francisco. Can you imagine this enormous building partially hanging over the cliff? ....... in an earthquake zone? Sorry, I'll take tornados any day.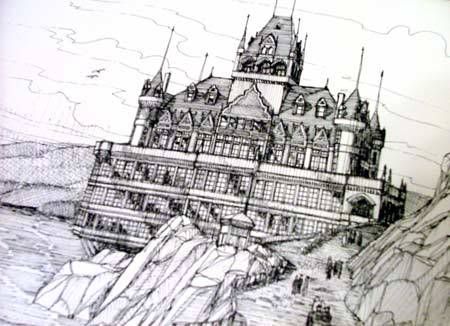 This morning I'm very excited to be making preparations to drive up to the Little White House to see the farmer. The two weeks prior to Thanksgiving is the busiest time of the year for fresh herb operators and the Farmer assures me that he's got stacks of fresh basil stacked 10 feet high waiting for delivery. For these two weeks and during terrible weather conditions he stays at the little white farmhouse. We call it the Little White House and it hold the objects of my affection, the Farmer and a huge Viking range. They hold my affection in that order.
Since the Little House has no laundry facilities we'll also be doing a clothing exchange. I'm hoping he'll take me out to dinner, although I'd love to cook on the Viking range. Just think, I've got a warehouse of fresh organic herbs just across the frozen field. Here's a recipe for you:
Chicken Breast Dijon with Basil
Ingredients:
6 skinless chicken breasts
1/2 cup flour
8oz heavy cream
2 oz fresh basil, chopped
1 tablespoon fresh oregano, chopped
2 tablespoons Dijon mustard
2 tablespoons olive oil
1/2 oz fresh marjoram, chopped
Garlic powder, salt and pepper to taste
Preparation:
Sprinkle both sides of the chicken with garlic powder, salt and pepper. Dust seasoned chicken with flour, shake off excess. Heat oil in 12 in. frying pan. Sauté chicken, 4 minutes each side. When done keep warm on plate. Add wine to frying pan stirring up herbs left from chicken. Reduce liquid by half. Add mustard and 1/2 the chopped basil and marjoram and all of the chopped oregano. Add cream. Reduce by half. Add chicken and cook 1 minute on each side. Arrange on platter. Cover with the remaining sauce. Sprinkle the top with remaining basil and marjoram.
This recipe is from
The Herbal Garden website.
Click on the link for more recipes. You can search by ingredients.
I'll be traveling north in my new crossover vehicle.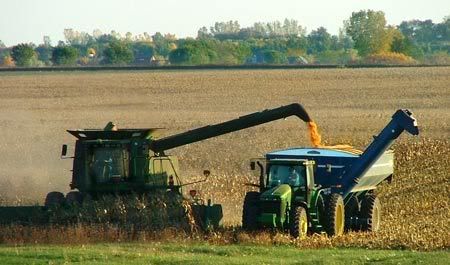 The Illinois grain harvest continues.
Yes, I've respectfully retired my ten year old Grand Am from daily service. She was a trusty steed and will occupy a bay in the garage, driven occasionally on a sunny day. I really needed a vehicle with hauling capabilities. You know, hauling all that stuff to Goodwill......shhhhhh, and bringing in a little more stuff! Don't tell the Farmer.
All my cars have names and the Grand Am was named Black Sunshine after the Rob Zombie song dedicated to his Mustang, and no, I won't subject you to the song this early in the morning.
As soon as I get the batteries charged on my camera I'll have photos, reveal the make and model, interview my personal car salesman and have a name-the-crossover contest.
Stay tuned!