Here's a quick report on our trip to experience "Christmas in the City".
This is Illinois, and weather is always an issue. We started the day with a freezing cold rain which turned into a downpour when we reached the city. Someone on the train received a cell phone call with the news that the residents of Illinois got an early Christmas present.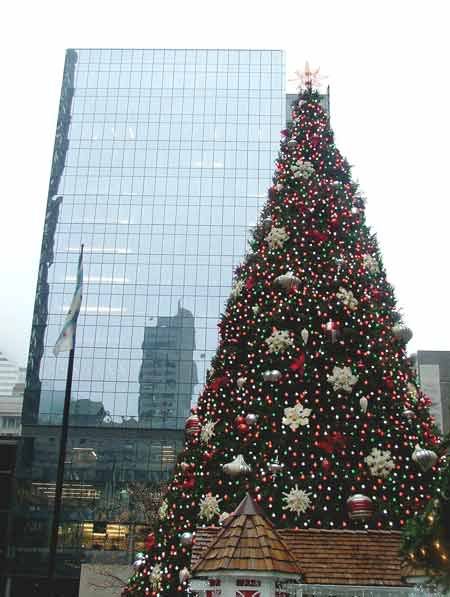 Our Governor, "Let's-Make-a-Deal Rod Blagojevich" had been arrested by the FBI. The passengers on the train broke out in applause. This guy had a 2% approval rating. He has done much damage to our state, including running alot of businesses over the state line (including trucking firms) into Indiana to avoid his "fees", because you know that fees are different than taxes. HA! He'll be wearing a pumpkin suit very soon. His wife has shown herself to be a spoiled brat (daughter of politician Dick Mell), who refused to move to our state capital and assume responsibilities as our First Lady. Oh.....I forgot, it's
all about her
. It doesn't matter because Rod feels little compunction to be in our state capital when the legislature is in session. Everyone in both parties have done their best to distance themselves from this couple. They are an embarrassment and shame on the voters of Illinois for re-electing him. I object to the media's portrayal of Illinois residents as folks who "come to expect this level of corruption. BULL HOCKEY!!! OK, I forgot I don't talk politics but wow, I feel much better.
Rant over.
My feet are wet and freezing and I'm pooped from the walking and sensory overload from being in the city. I was fun and exciting to spend the day with my friends. I'll be back later today with some photos and a narrative of our adventure. But for now I'll leave you with this and I'll count on Blogger to publish at 2 a.m. so that you have something to read over your morning cup of coffee.
Here's how
Marshall Field's
Macy's dresses
their
chandeliers.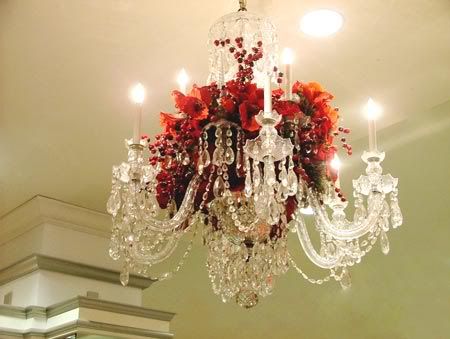 I'm sleeping in for a bit. Come back later for more.....including a fairy princess who grants wishes!