Today we're going to dress the chandelier. This is an easy trick that results in a wow factor when you enter the room.
You're going to need a length of fabric to wrap around the arms of your chandelier. This will vary on the size of your fixture. I think this was about a yard or a yard and a half. You don't have to be exact because you can keeping wrapping the excess or cut it off and use it under your creche.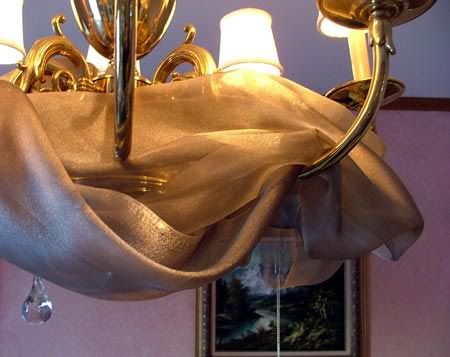 As you can see I've used a slightly sheer fabric that has some body. A chiffon probably won't work because it will simple droop. I think this is a voile. Please correct me if I'm wrong. Depending on your decor, you could use linen, dotted swiss or bridal netting. If you try this idea please let me know, I'd love to link to your photos.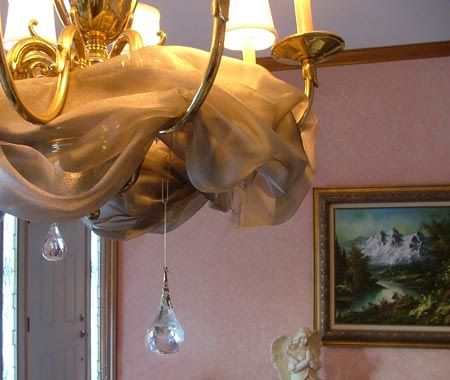 Wrap one corner of the fabric around the arm and secure it with a pin. Start wrapping over and under, twisting the fabric as you work. You might need to hide a pin here and there to keep things secure.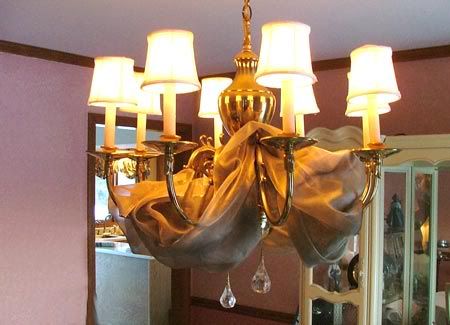 Fiddle with the fabric so that it's to your liking. Get some of those long crystal ornaments at the store and hand them from the chandelier arms.
Stand back and prepare to be wow'ed.
YES ....... my dining room (and living room) are faux finished in a shade of shell pink. Don't think your husband would like that? I was surprised. Every man, EVERY MAN who walks into our home comments about how much he love the color. I was surprised.
My friends and I are taking the train into Chicago this morning. We're going to do the whole "Christmas in the City" experience including lunch under the tree in the Walnut Room in Macy's....... uh, er, the FORMER Marshall Field's. Seriously, don't get a Chicagoan going about the subject. It is and always will be Marshall Field's to me.