For those of you who love to look at rural images, I'm offering The Farmer's Wife calendar. I've chosen 12 images from my library of thousands of images taken over the last 4 years. Here's the cover.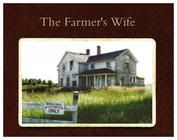 The Farmer's Wife Calendar for 2009
$17.72
If you like over to Lulu, you'll be able to
preview all the photos.
There are lots of barns and a great photo of the Big Rock Firemen cleaning up after a huge barn fire.
As always, a portion of any proceeds will be donated to
Trickle Up.
Thanks.