Yesterday I was forced into the unpleasant reality of facing some of my bad habits. These include:
- procrastination
- sometimes flying through life without a net
- no plan "B"
My decision to produce the Gingerbread Tutorial in real time came back to bite me big time. Oh, the disasters!! The batch of gingerbread dough I mixed up was literally impossible to handle. It was dry beyond belief, something I've never encountered before. I added more and more honey. The dough proceeded to become more and more unmanageable. The worst part was rolling it out. It was so tough that I had to lean my entire weight on the marble rolling pin to make any progress.
I had visions of bloggers sending me terse e-mails. This dough is always a bit dry and stiff but this was ridiculous. I was near tears when I made the decision to start over. My inner voice said, "Just pitch that batch in the trash". And so that's what I did. I'm telling you this story so that you'll understand that sometimes things just don't work.
I started on a second batch and since I was doubling it, I decided to add an extra egg for moisture. I walked over to the pantry to grab the large container of sugar when something dawned on me. I forgot to add the sugar to the first batch! I don't know the dynamics that would make a dough more moist by adding one additional dry ingredient, but the second batch was so easy! Phew.
Did you know that there's a website called, "Engineers Who Cook"? They're very smart and maybe they can explain the chemical reactions between egg, honey, sugar and flour.
Having said all that, we can now begin to work with our gingerbread.
Roll it out to 1/8 inch thickness. The gingerbread will shrink up a bit and get a bit thicker as it bakes.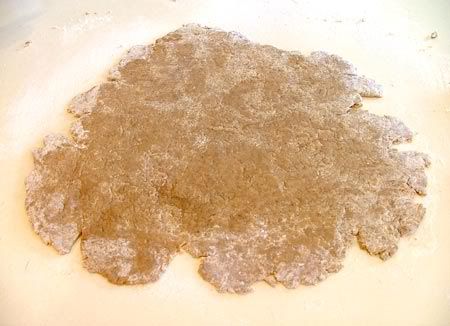 This is the difficult first batch of dough.
Lay your pattern pieces on top of the dough. I use a pizza cutter to cut the straight edges. Continue and cut all sides, saving the dough to recombine and roll out again.
ED. NOTE: If the dough starts becoming very stiff, put it in the microwave for 10-20 seconds. This will soften the dough and make it move pliable. You can do this numerous times if needed.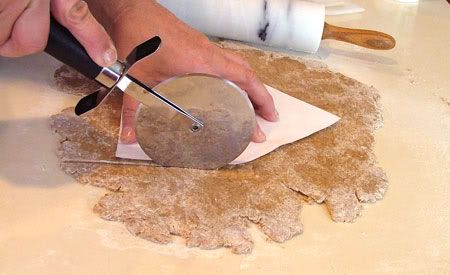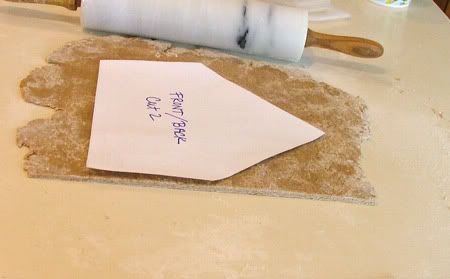 Don't forget to cut out windows and doors. I just cut freehand. Don't worry about being perfect because the decorations hide a multitude of sins. You can lightly mark the windows with a sharp pencil and cut out with a sharp knife.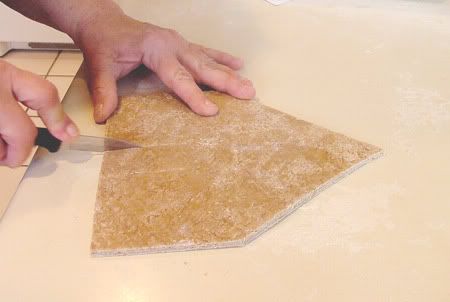 Save the windows pieces. Cut them in half and they become shutters that are the perfect length.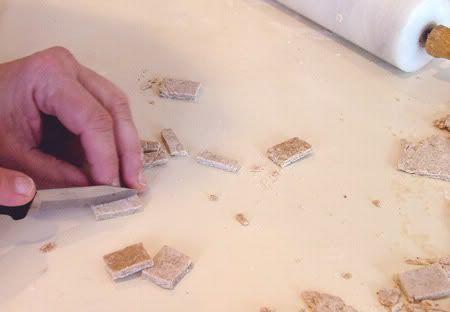 Score the shutters with the edge of a knife to make louvers.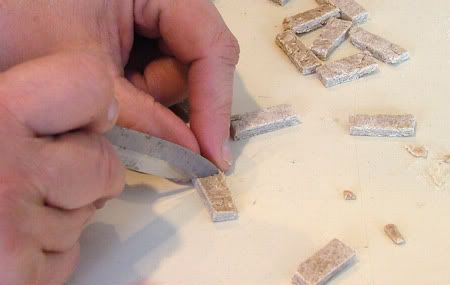 I wanted a round window at the top, near the roofline so I used the top of a salad dressing bottle.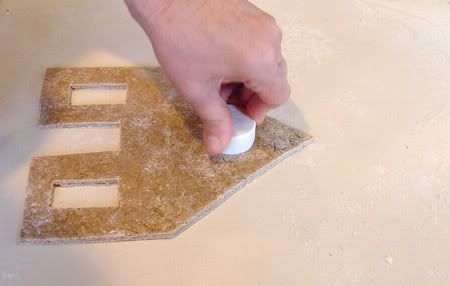 I stacked the two side pieces on top of each other and cut the windows through both layers so that they would match.
Clean up your edges using a sharp knife.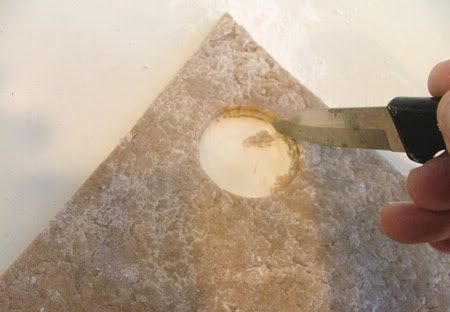 Carefully slide your pieces onto a baking sheet.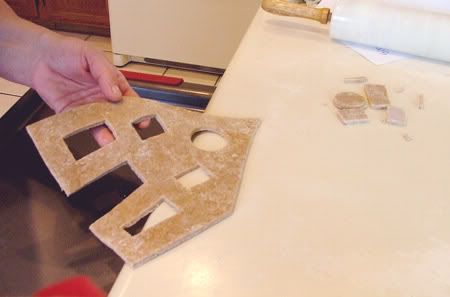 Bake for 12 to 14 minutes. The smaller pieces will require less time in the oven. Keep an eye on them as they bake.
Remove and let cool.
Tomorrow we're going to mix up our gingerbread glue, otherwise known as Royal Icing. We'll need that before we can start construction. Thanks for following along. Please feel free to e-mail me with any questions you might have.