Just as I was finishing up the gingerbread house my son walked into the house carrying this: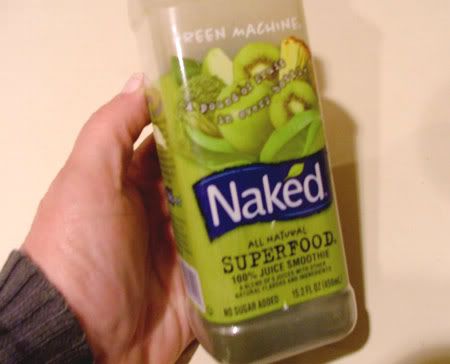 It's called Green Machine Naked - all natural superfood 100% Juice Smoothie. Here are the ingredients:
Apple juice
mango puree
pineapple juice
banana puree
kiwi puree
spirulina (?)
natural flavor (which one?)
chlorella (?)
broccoli
spinach
barley grass
wheat grass
parsley
ginger root
blue AND green algae
odorless garlic
Here's the color.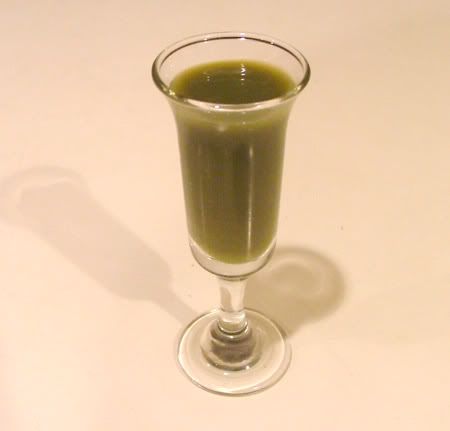 I figured the best way to drink this was to mix it with some gin.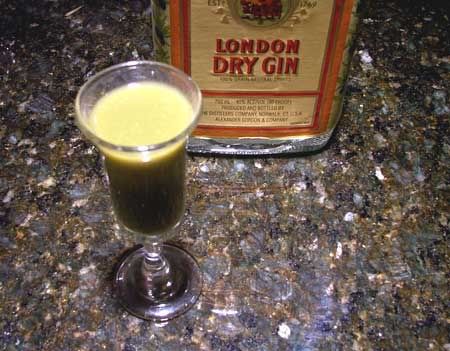 After baking and decorating all that gingerbread I needed an adult beverage. It's a Pond Scum Martini. Very healthy!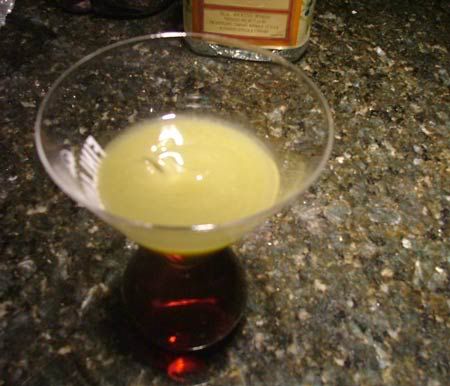 - - - - - - - - - - - - - - - - - - - - - - - - - - - - - - - - - - - - - - - - - - - - - - - - - - - - - - - - - - - - - -
I'd like to thank everyone who followed the gingerbread house tutorial. I had a good student in Vee, from
A Haven for Vee.
She and her carpenter did a great job creating their own version of the house. I hope many others were inspired to try it.
Yesterday Vee left a comment on my blog that said, "Thanks so much for all the fun this week. I'm seriously telling you that when I think of this Christmas, my first Christmas with John, a lot of the fun memories are going to be around this little gingerbread house."
That was the idea shared by Chef Alain Roby and his wife Esther when they planned the First Annual Gingerbread Competition in 2006. Their stated intention was to encourage a project that families could create together. And that was the concept that got me hooked on creating gingerbread structure.
The second year of the contest was phenomenal and everyone was disappointed when the Roby's were forced to take a pass this year due to a professsional commitment.
While searching online last night I discovered that the weekend the contest would have been held he was in Hong Kong creating this 22 foot tall chocolate tree which won another world's record for him.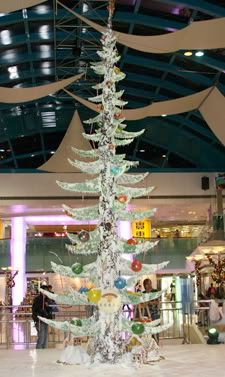 Here's a video featuring his entry into the Guinness Book of World Records for the tallest chocolate structure. That's his wife Esther declaring how much he hates heights!
I encourage all of you to find a project, whether it's in the kitchen or in the craft room, that will allow you to create make memories together.