Do you remember the sinking feeling when you've lost an item that is precious to you?
Over the years a number of things have gone missing on me and I'm always surprised that the sinking feeling that follows never loses it's intensity.
In high school my steady boyfriend lost my class ring on a golf course. Unfortunately I'd only worn it for a couple weeks before we exchanged rings and several weeks later it went lost. I often wonder if some hapless golfer found it at the 7th tee.
On our trip to Arkansas in the fall we engaged in our tradition of going to dinner with our friends and celebrating our birthdays. Since we only see this couple once or twice a year, a communal birthday party makes sense. This year my mother was along on the trip with us.
At dinner we exchanged gifts. My friend and I have a long standing tradition of giving pink flamingos to each other and over time it's more of a challenge to find these items. This year she gifted me with pink flamingo slippers in a lovely gift bag. My 80-yr. old mother gave me something very precious. Tucked inside my birthday card was a small collection of old photos. She knew I would treasure these images of my grandmother and her friends. These were strong, independent and highly Bohemian women in a time when this was not the norm.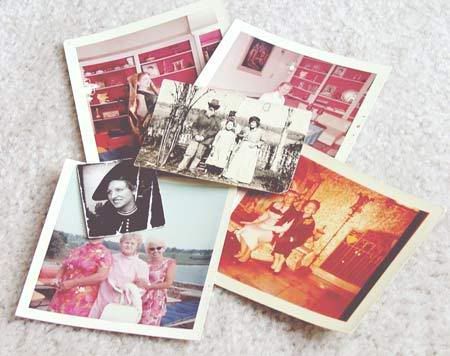 Also, my mom had included the only known photograph of my maternal great-grandparents.
The handbag I'd brought to dinner was very small and I remember thinking, "I must be careful with these photos." Shortly after this, disaster struck. We left the restaurant, packed up our suitcases and left for home the next morning. When I unpacked the bags I couldn't locate the birthdays cards and the photographs. I literally tore everything apart. There was some paperwork from the architect and some sightseeing and travel brochures but the cards were nowhere to be found.
My mind grasped to recall my actions from the moment I left the dinner table to the time I'd returned home. We had ridden in our friend's van so I called her immediately and asked if she'd check the floor and under the seats. Nothing. I was starting to panic and that heavy feeling was setting in.
I called the restaurant and asked the hostess if anyone had turned in a couple envelopes on Saturday evening. She checked with the management and came up empty. I sat alone in my bedroom imagining a bus boy tossing envelopes in the trash. In my mind the precious images were sitting in a landfill in Hot Springs, Arkansas, lost forever.
I couldn't image any way that these photos could make it back to my hands. What combination of events would need to take place for that to happen? From that landfill......to my hands.
Several days later my mother called and launched into a conversation about the pictures. I was literally sick to my stomach. I couldn't tell her what had happened and I hoped that she would never ask me to pull them out during one of her visits.
At some point I had to quit projecting my "story" about what had happened to the photos. It was a sad and final outcome. I decided instead to have faith that either the photos were in the hands of someone who would see them as something of value, or that someday I'd find them.
The photos entered the realm of prodigal, and I viewed the entire experience as one of those small tests of faith.
The months passed and occasionally I'd think about the photos and the quick glimpse I'd had of them before I tucked them back in the envelope. The weather cooled and I went to the back of my closet to retrieve the warm, pink flamingo slippers, the gift from my friend. As I pulled them from the gift bag, two envelopes fell out. The prodigal photographs had been home all along. I didn't cry at their discovery but I felt light, as if the heavy weight of my responsibility for their loss had been lifted.
I think we've all had these types of experiences. Have you lost a precious item?