Come along with me. We've been invited to a Christmas Open House at the Schramer family farm. I want you to meet a local farm family.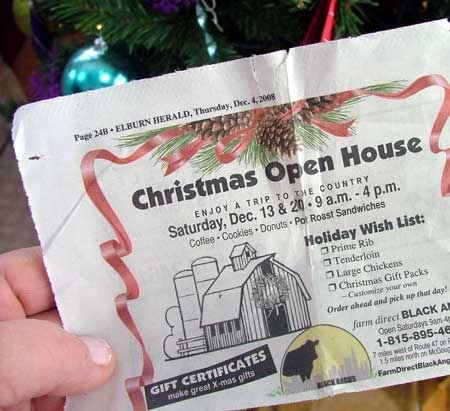 Several years ago the Schramer's decided to offer their Black Angus beef directly to customers. They attend the local farmer's martkets during the season and operate a store out at the farm.
We're going to head west on Route 64 towards Sycamore.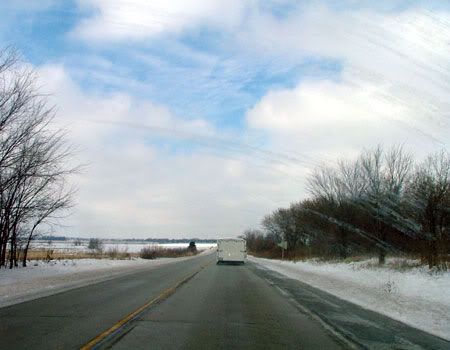 The abandoned Maple Park Motel on the right.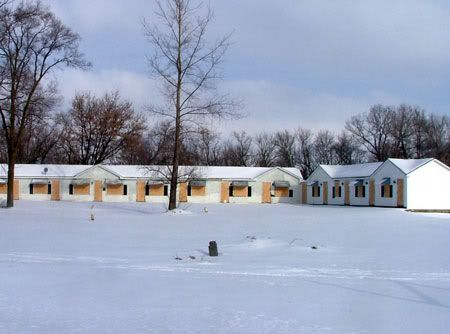 Our landmark is the Sycamore Speedway and Bob-Jo cycle shop. We're going to turn just past the speedway.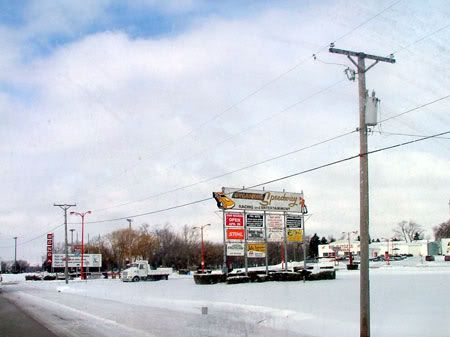 After turning on McGough Road and traveling for a few miles I see the sign for the farm.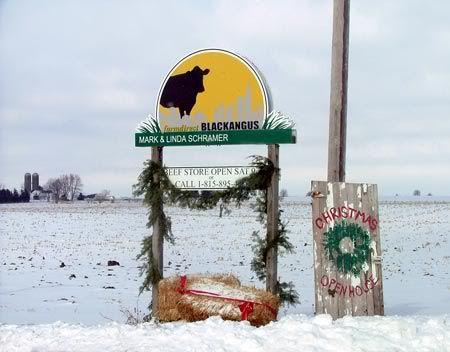 This is a country road so it is a little rough. After a short distance it turns sharply to the right.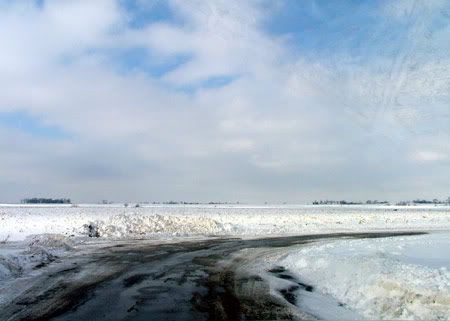 Here's their driveway leading to the farm. You can see their silos in the distance on the left.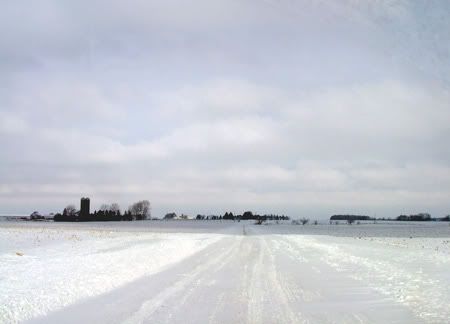 Four wheel drive comes in handy in these parts.
The driveway turns again, this time to the left. As you complete the turn you're greeted with this sight. Isn't this farm beautiful?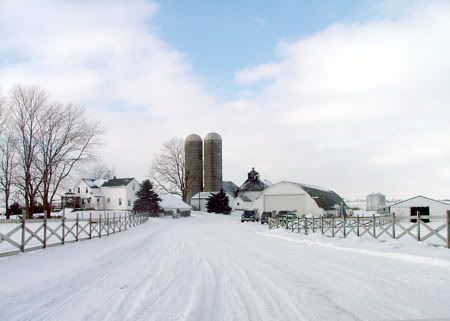 Just behind the farmhouse is an outbuilding that serves as the farm store. The farm dogs greet the customers. Just inside the door is a heater and some cool seating.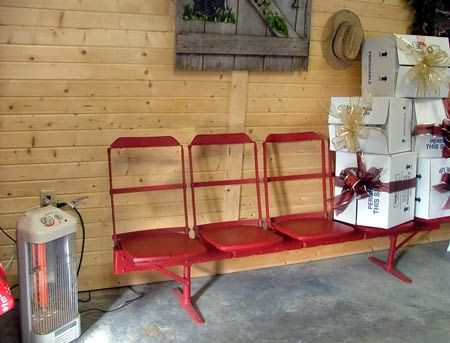 Linda Schramer and her elves have decorated the store with antiques and wonderful decorations. Here's an old desk and an old postage scale.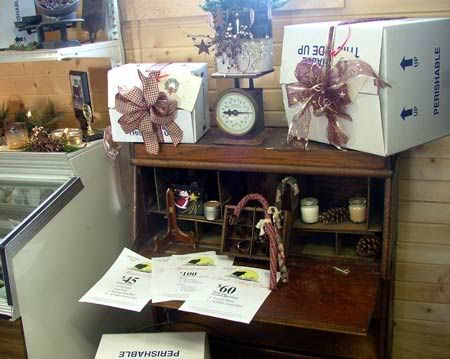 She knew we were coming so she set out a table with chips and rolls. What's inside that large roaster? Shredded Black Angus pot roast for sandwiches.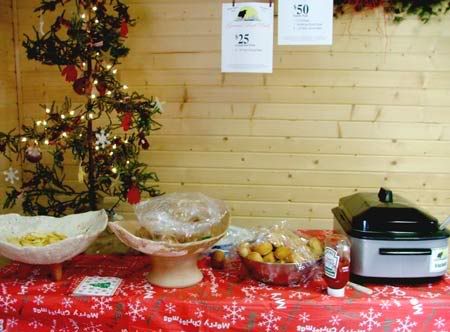 OH MY GOSH!!!! It was delicious. Seriously delicious. Nothing beats pot roast cooked slowly in a roaster. Twelve hours is good.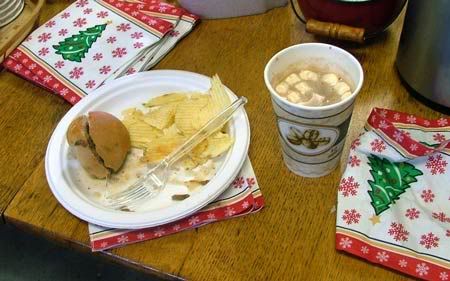 I'm sorry, I don't mean to tease you because i know you can only have a taste in the cyber sense, but can't you smell how good it is? As you can see she also served hot chocolate and coffee. There was a pot of gingerbread flavored coffee that was wonderful.
Visitors sat at a picnic table and enjoyed the food and the warm atmosphere.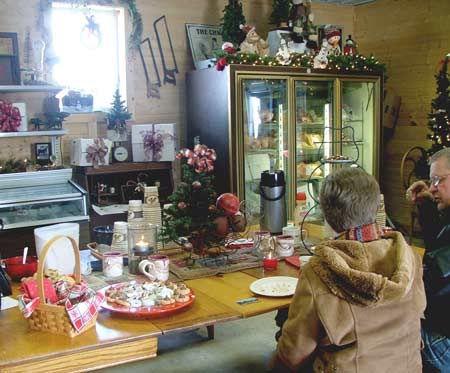 This is just one of the freezer cases filled with locally raised beef. You'll see some free-range chickens in that case also. They were HUGE - 10 lbs. They looked like little turkeys.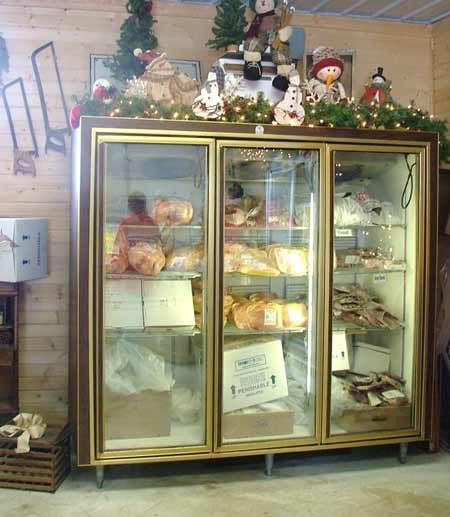 Here's another look at Linda's decorations. That's an old butcher's scale on the top of the freezer case.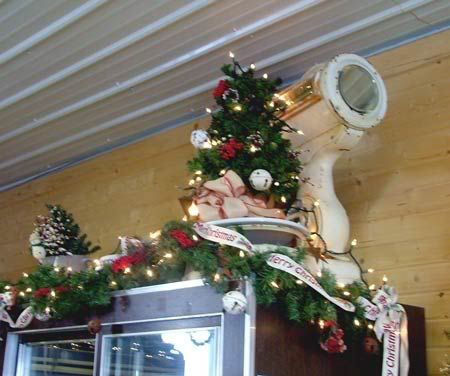 Left to right: Linda Schramer, Kris Flint (her sister-in-law) and Barbara Wojnicki (friend and helper). They were very helpful and answered lots of questions.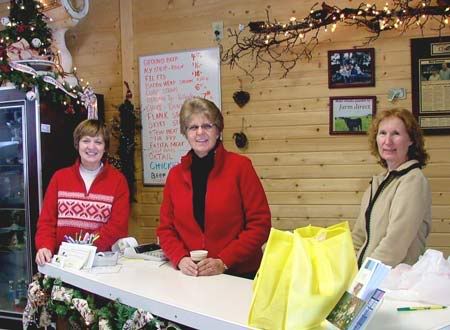 The Schramer's originally marketed their beef based on the fact that it's hormone free. Loyal customers are strongly committed to buying their beef from local farmers.
You can find the Schramer's at their website:
FARM DIRECT BLACK ANGUS
The would be happy to answer any questions you might have. And guess what? They ship via UPS.
Look what I loaded up in the back of the Red Sled. It's a Winter Pack.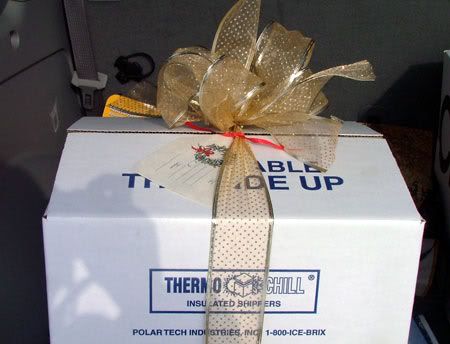 As we pull out of the driveway I want to thank you for coming along on my little adventure.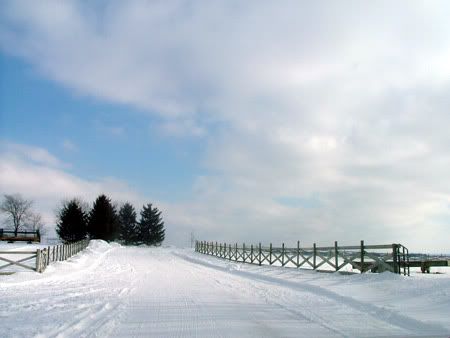 I hope you enjoyed meeting one of our local farmers and having a pot roast sandwich at the open house.