With a population of 300, Troy Grove is half the size of our small community. There's no reason to exit the interstate unless you live in the area because there's no gas stations, fast food, hotels or stores.
They have something better including WIld Bill Hickok's historic marker and some nice houses. Here's one with some lovely gingerbread trim.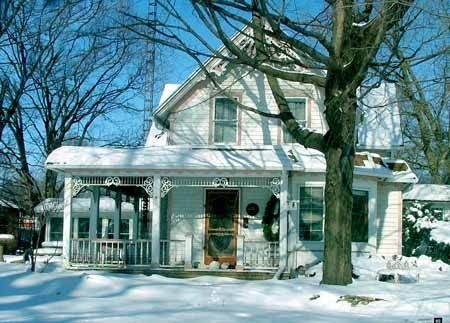 This older building is attached to a newer structure and it's used for storage. The architecture tells me that this was once a bank.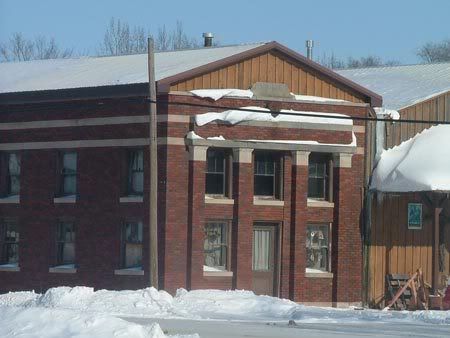 I love the little post office. It's very small and shares the building with a Grange Hall.
The Grange
is a rural organization. I haven't been in a Grange Hall in many years but I remember it as being a type of social organization. This is a very small Grange.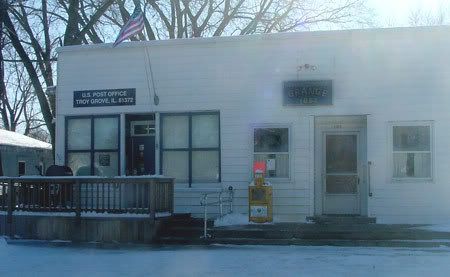 Surprisingly there are two places to eat in Troy Grove. There's a small place is called "The Kidd Inn".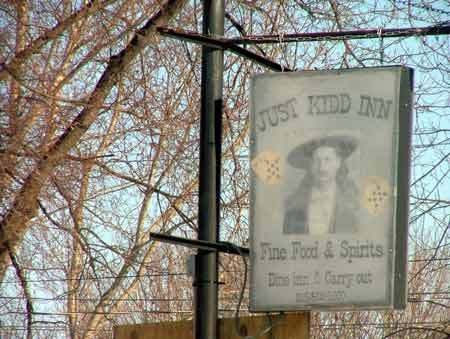 I don't know who "Kidd" is..... the faded image on the sign looks like Hickok and the playing cards are a reference to the poker hand that he was holding when he was shot dead. A pair of eights and a pair of kings, which in the poker world is known as "Dead Man's Hand".
From the information on the sign it appears they're only open on Friday and Saturday. Friday is fish fry and Saturday is chicken. I think every small town in northern Illinois has a fish fry on Friday night.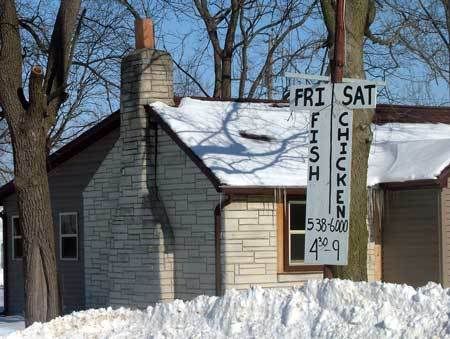 The other establishment is on the edge of town and it's called "Chubby's Corner", home of the World's Largest Ham Sandwich. Wow, that's quite a claim. Unfortunately I was in town very early on a Sunday morning and Chubby's wasn't open yet. But I do intend to drag the Farmer back with me to see if their claim is true. And maybe, just maybe, they might also serve pie.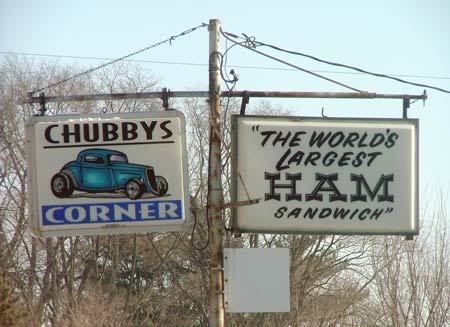 And last but not least, what's a small town without at least one Our-Lady-of-the-Bathtub?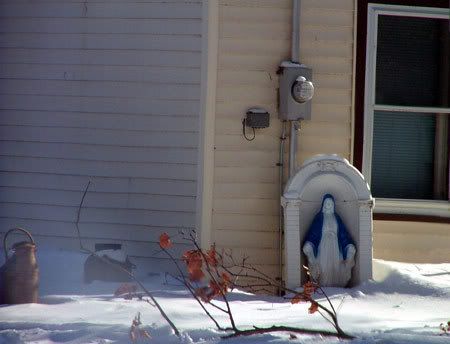 This one was quite lovely.
Thanks for coming along with me to Troy Grove, Illinois, birthplace of Wild Bill Hickok.
Next week we're going on an adventure to the birthplace of yet another famous person born in Illinois. Stay tuned.