If you've been reading for awhile you know my penchant for getting off the interstate and poking around side roads to see what I can find. An old friend of mine travels all over northern Illinois and Iowa and is on the lookout for interesting barns for me to photograph. A couple of years ago he spotted an unusual stone barn that is visible from I-39 just south of Paw Paw where the wind farms are located.
I searched Mapquest and found the closest exit and drove out to see if I could find my way along back roads to photograph the barn up close. The exit was at Troy Grove, Illinois and this is all it says on the road sign. There's nothing to indicate what's hiding in tiny Troy Grove.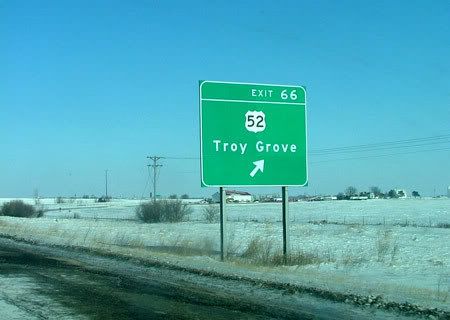 I headed west towards the town and to my surprise I came upon this sign: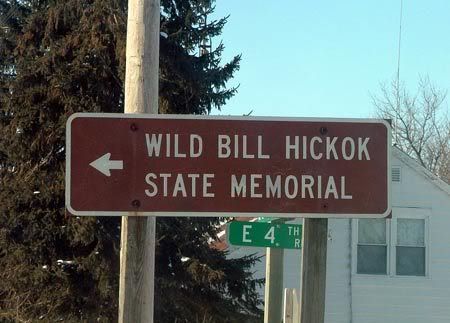 To me Wild Bill Hickok was a figure from the wild, wild west.
Troy Grove was once named Homer and it is the birthplace of Wild Bill Hickok. It's a very small town, only 300 residents and smattering of houses built around a small park. The park contains a granite slab with a marker, paying homage to the hometown boy.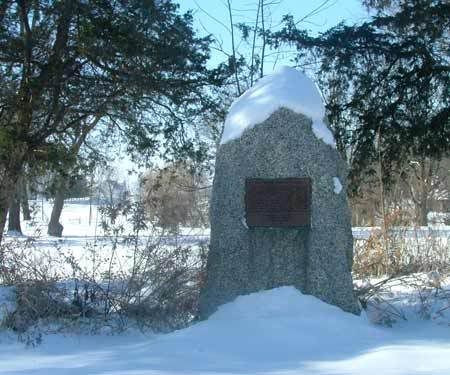 The plaque reads:
James Butler "Wild Bill" Hickok

Pioneer of the great plains, born here May 27, 1837. Assassinated at Deadwood, Agusut 2, 1876. Served his country as a scout & spy in the western states, to preserve the union in the Civil War. Equally great were his services on the frontier as express messenger & upholder of law & order. He contributed largely to making the west a safe place for women & children. His sterling courage was always at the service of right & justice.

To perpetuate his memory this monument erected by the State of Illinois
A.D. 1929
That's certainly an interesting piece of writing but it hardly paints a realistic picture of the man. The wild west was almost a thing of the past by the time Hickok and his contemporaries reached middle age. He was friends with Buffalo Bill Cody and Calamity Jane. At her request, Calamity Jane Cannary was buried next to Hickok.
Watch an old film of
Annie Oakley shooting her rifle.
It's interesting to note where these famous western legends were born.
Wild Bill Hickok
- Troy Grove, Illinois
Calamity Jane Cannary
- Princeton, Missouri
Buffalo Bill Cody
- Le Claire, Iowa
Annie Oakley
- Willowdell, Ohio
Billy the Kid
- New York City
There's no information out on the interstate about this Hickok memorial and I never would have found it had I not been poking around the countryside. I wonder how many other interesting things are tucked away on the back roads.
I'm going to find out!!
Come back tomorrow when I show you more about the tiny town of Troy Grove.