Are school kids still required to learn about regional crops and livestock production as part of their geography lessons?
I distinctly remember memorizing which food products were produced in each state. The same for livestock. It certainly wasn't a "country" curriculum because I was raised within spitting distance of the city of Chicago.
My fourth grade teacher Miss Leifson went as far as to require us to construct a diorama of the city of New Orleans, complete with boats bringing corn and wheat down the Mississippi River. We also had to include boats arriving from the Caribbean loaded with bananas. She brought in pralines made with pecans from Georgia and we listened to Harry Belafonte's Banana Boat song as we finished our work.
Wisconsin makess cheese, and Georgia grows peaches. The Florida panhandle was covered in cotton and peanuts. What's Kansas? Wheat, of course. Illinois is corn and soybeans with some pork and beef added to the mix. But as I have mentioned several times the wind is as much of the landscape in Illinois as the cornstalks and bean fields.
Illinois is all about wind. I get nervous if the air is still.
If you drive through north central Illinois on Route 39, you'll come across two large wind farm operations. I was amazed when the first one was built but the newest crop of windmills are unbelievable in scale.
Have a look.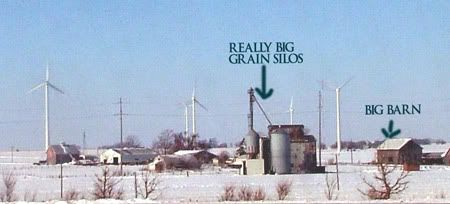 I can guarantee you these are very large buildings. The barn is 2 to 2-1/2 stories tall.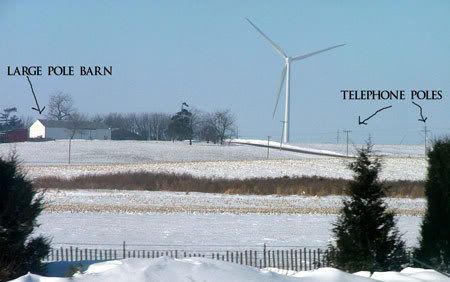 The telephone poles literally look like matchsticks. The footprint of each windmill is actually small and the farmers plant all around the base of these monsters. The electricity produced by these huge machines is not used locally but sent elsewhere. The investment must be huge, and the maintenance also.
Our wind is brisk but I can't imagine that it would be enough to move these humongous blades.
Have you seen a wind farm? They're quite amazing and you don't even have to get off the interstate.
Tomorrow we get off the interstate at an exit that has no gas or hotels...... just a surprising secret

!