Surely a small forest of trees has fallen victim to my habit of making lists. However, my list making talents cannot hold a candle to a former co-worker who kept a list to organize her lists!
She knew something was terribly wrong when she found a list in her eight-year-old daughter's room that included a detailed plan for her day including "bathroom break" and playtime scheduled down to the minute. Something had to give. She has since learned to relax a bit.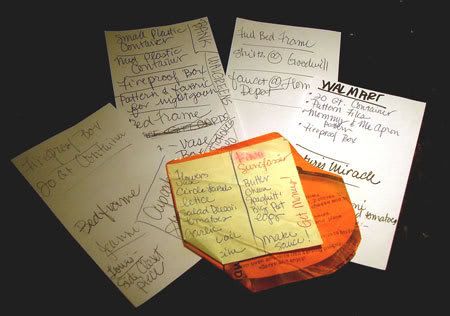 My lists are definitely a bid to stave off the ravages of time on my memory. It's impossible to count the times that I've returned from a shopping trip with everything
except
what I went for in the first place. I was wasting alot of time and gas, since I live 9 miles from anything.
Three-by-five index cards are my material of choice simply because they're sturdier than post-it notes or just plain paper. But index cards ain't what they used to be. They are flimsy, flimsy, flimsy!!
Why all this talk of lists? Because when I opened up my wallet at the post office today there were no less than four lists inside! Some things had already been crossed off and usually before this point I combine and create a new list. The colorful list in the center is a post-it note taped to a recipe for bruschetta. I've been using this as a bookmark.
I make myself laugh when I read them. A perfect example of humor is the use of exclamation points.
flowers
vase
circle labels
lettuce
salad dressing
find sunglasses
butter
cheese
big pot
eggs
make sauce!
get money!
Yeah.....get money, for sure!!
Nature's Miracle is one of the items on a list. Here's a plug for that stuff. This stuff is terrific if you have pets that have accidents. That's me! I need more.
Included on the lists are places I want to remind myself to visit when I'm out running errands, such as.....
CUPCAKE SHOP
There's a new one in nearby Geneva and I still haven't visited. I really need to get over there before they close their doors. It has been known to happen to me.
I've heard there's a guy out there who saves all his lists and publishes them. I'm quite sure mine aren't that interesting. I've also see a book at the bookstore comprised of lists someone has found in shopping carts. Amazing material. You could write interesting stories based on someone's shopping list.
kitty litter
olive oil
chocolate syrup
Please tell me I'm not the only list making fanatic, besides my former co-worker of course!