I'm sick to death of talking about the weather but the truth is, that's all we're talking about around here.
There are parts of the country that have us beat but yesterday morning it was 22 degrees below zero and that was without add the wind chill factor. It's dangerously cold and many, many vehicles would not start this morning including several of ours and our neighbors.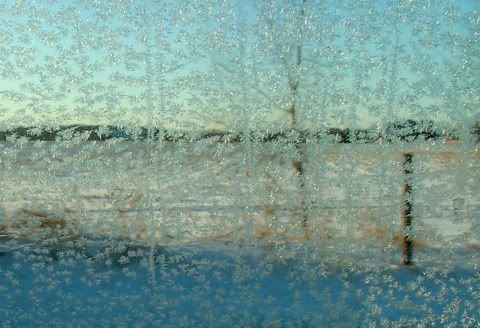 Caution must be taken when driving the back roads because if you get stranded you can quickly find yourself in a dangerous situation.
I did have to go out briefly yesterday and was stunned to see three people walking along the side of the road. One was only wearing a sweatshirt - no coat!!! It was a crazy sight but they were on a busy highway which made it almost impossible to stop. What were these people thinking? They were walking away from the county court house building and I know for a fact that public transportation is available from that location.
Back in the early 80's there was a similar cold snap that lasted for 21 days, if my memory is correct. At that time we were in our former home dealing with frozen pipes and an uninhabitable second floor. The two kids, the Farmer and our dog all shared a queen size hide-a-bed positioned in front of our fireplace. It was literally three dog nights with only one dog. Our furnace ran nonstop for four days and I was afraid it would blow up.
The weatherman promises temperatures in the 30's next week but I'll believe it when I see it. That will be a heatwave. Stay warm and safe everyone. The Farmer and I are looking forward to a cruise in four short weeks!