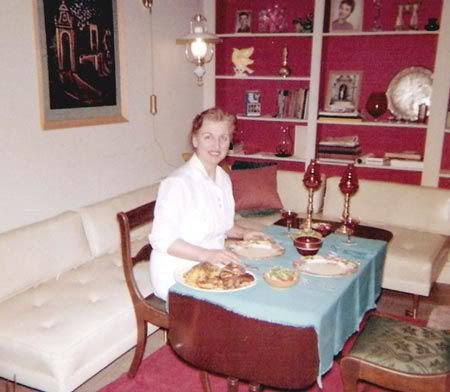 The time: Circa 1963
The place: Northern Illinois
This is my grandmother's friend Martha. You remember her, she's the dramatic one. What am I saying? All of my grandmother's friends were dramatic.
This is obviously a staged photo with Martha sitting at her small folding leaf dining table. Why do I say it was obviously staged? Because her place never, ever, EVER looked this neat and orderly. Her apartments were always packed to the rafters (literally) with books, magazines, patterns, fabric, trims and everything else imaginable.
She was insistent on one thing though. There was always a spot carved out of the chaos that was her dining room table and in the midst of the crazy clutter was one perfectly arranged place setting of beautiful china, crystal and sterling silver. It was her way of staying civilized in her jungle of possessions.
I notice that she's wearing her white uniform. One of the many accomplishments in her life was the fact that she graduated from nursing school. She was also a renowned milliner in Chicago and towards the end of her life she was an expert on herb gardens and was the curator of a garden at a local college. She never ceased to be excited about learning.
Like I said she was quite a character. Was your childhood populated with colorful characters? Inquiring minds want to know.