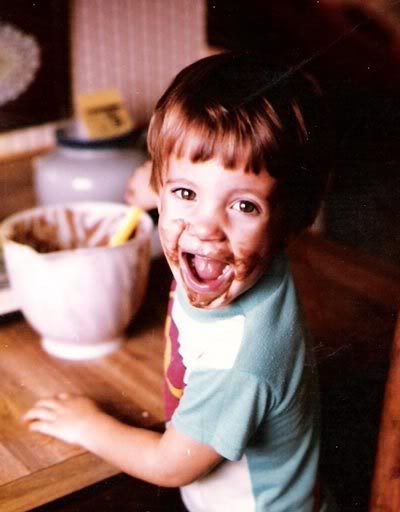 The time: Summer, 1982
The place: Our kitchen, Bartlett, Illinois
We'll title this one, "Baking a Chocolate Cake". Although on second look the bowl is small for a whole recipe of cake batter.
Our daughter would be born in a few short months, but for now this little guy was an only child. That meant that he didn't have to share the bowl with anyone. Doesn't this look like fun?
I can remember that wallpaper in the kitchen and how many books I poured over before making the decision. I also remember, years later, how insanely difficult it was to remove it. I swore off wallpaper forever and I've kept my vow.
The framed piece on the wall was an old piece of filet crochet that said, "Bread".
I'm stunned to think of how many years have passed since this happy little moment baking a long forgotten chocolate cake.