The
Tampico Historical Society and Museum
is housed in a storefront on Main Street, several doors down from the Reagan Birthplace.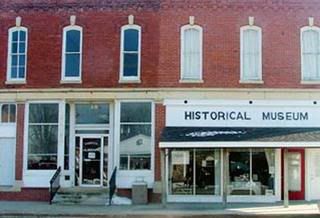 This museum is dedicated to the history of Tampico and the surrounding farming communities. There are a few Reagan mementos but the majority of that collection is housed in a space next to the bank building and Reagan birthplace.
The effort involved in collecting and maintaining a small museum collection in small town American demonstrates the can-do spirit that defines our communities. This country is young enough to still have the pioneer spirit that built these towns. When you live in a small town you realize that you must be willing and able to "git 'er done" by rolling up your sleeves to organize and work towards a goal.
The storefront housing the museum needed to be renovated and in an effort to raise funds residents came up with the idea of creating a quilt.
My mom and I had walked to the rear of the museum and I spotted something hung on the wall behind a pair of sheer draperies.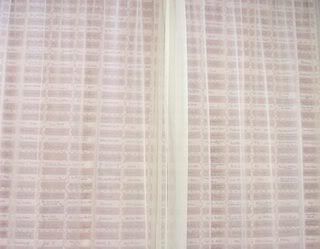 I asked one of the volunteers about the hanging and she proceeded to open the curtains to reveal the large quilt. It was made up of literally hundreds of small squares.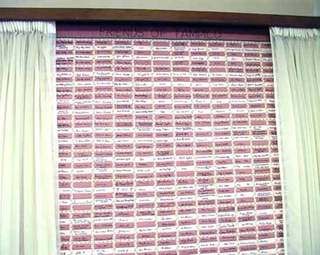 The volunteer related the story of the fund raising effort. A person would pay $5 for a square and they would sign their signature on the piece of fabric. Volunteers would then embroider the signature in black thread. The squares were joined together and the finished piece was hand quilted.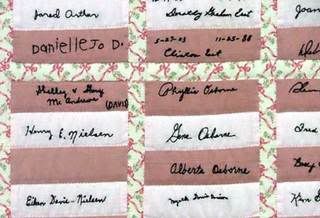 As my mom and I were examining the quilt, volunteers began reminiscing about the people reflected in this quilt. Some are now deceased but since this is a tight knit community, each name was identifiable with a personal relationship.
On one wall in the museum there's a set of sliding glass doors. Here you'll see some of the students who were visiting for the day. They're from the Amish and Mennonite communities just south of Tampico.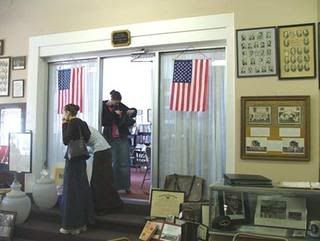 The doors lead into the library, which is another community effort.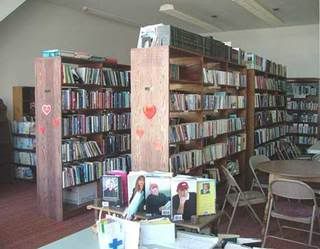 The Tampico library consists of these two large bookcases and the shelves along the three walls. There are two reading tables and a rocking chair. Since this is a storefront the display windows are decorated for the season.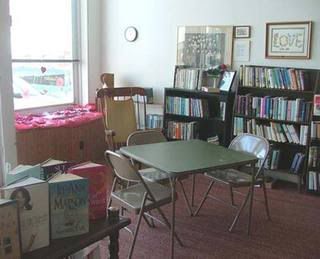 Behind the check out desk.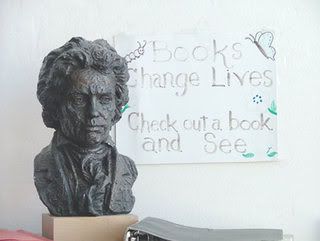 The Library policies.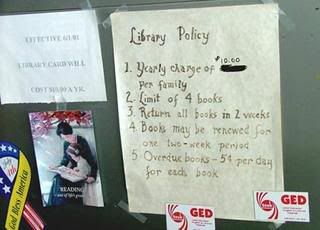 Larger libraries are available in Sterling/Rock Falls (14 miles) or Dixon (30 miles).
These distances are not the problem that they were 100 years ago. Transportation was slow and communities needed to be self-sufficient. At that time Tampico was a thriving community with a dry goods store, a hotel and a opera house where residents could be entertained.
Tomorrow we're going to walk down the street to the old bank and the