Each year on February 6th, the tiny town of Tampico, Illinois hosts a party celebrating the birth of former President Ronald Reagan. It was here that Reagan was born in 1911, the second son of Jack and Nellie Reagan.
My mom joined me and we headed west on I-88, exiting at Rock Falls/Sterling and heading south and west.
We arrived at Tampico about 10:30 a.m.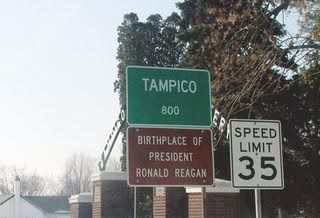 The Historical Museum, town library and the birthplace are in the same block.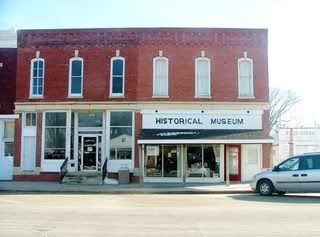 No trouble finding parking in this town!
My mom stopped inside the Museum to sign the guest book and make a donation.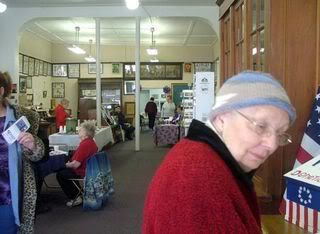 It appears to be a labor of the entire community. They've joined together to gather together lots of information and displays, celebrating the history of the area. It was apparent to me that this day was going to be about the strength of community spirit in small town America. This museum was assembled and is maintained by local residents.
More displays.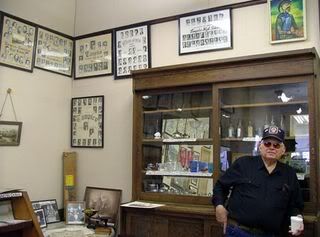 It is operated by volunteers who are a wealth of information. There was a big crockpot of sloppy joes cooking towards the back of the museum. There was also some delicious punch being served.
Of course there was birthday cake, baked by Mrs. Pat Tabor.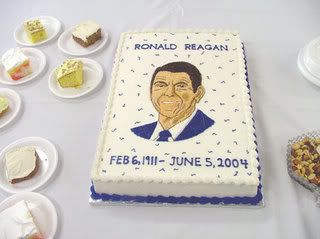 Shirley Lester (on the left) and Bertha Driessens were two of the volunteers on hand.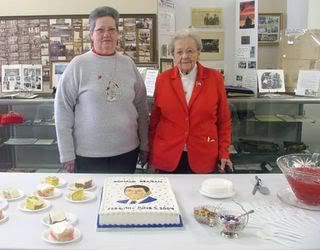 Bertha is 93 years old and for years served as the housekeeper at St. Mary's Rectory. Here she is cutting into the cake after the school kids arrived.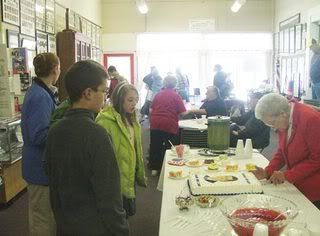 We met Father Louis Tosto who told us stories while he enjoyed his lunch of sloppy joes and chips.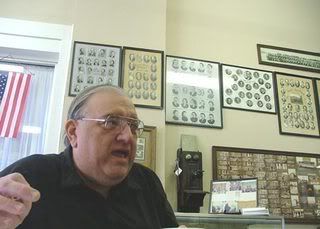 On the tables were bowls of red, white and blue Jelly Bellies.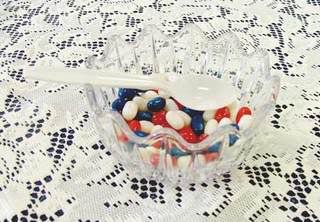 There's lots more to see. Come back tomorrow and I'll show you a fund raising quilt and the library.