Warm weather is a long way off here in northern Illinois. It does no good to wish or hurry the season along because I've learned the hard way not to plant before Memorial Day.
This time of year spent dreaming over seed catalogs and thinking about all the wonderful things that will grow this summer. With that in mind I invite you to check out
Boone County's Heritage Gardens site.
If you're in northern Illinois or southern Wisconsin you might want to check out their heirloom seed sale that will be held on February 21st.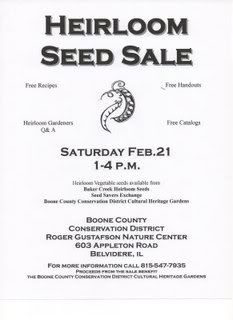 ">
They will be offering a gourd craft class that day.
- - - - - - - - - - - - - - - - - - - - - - - - - - - - - - - - - - - - - - - - - - - - - - - - - - - - - - - - - -
Over a week ago I promised to take you on another adventure. Unfortunately my reading comprehension was lacking when I looked at my calendar.
Today is the day! I don't have a laptop and I'm not capable of live-blogging so you're going to have to wait until tomorrow when I can process the photos. Where are we going?
We're going to the small town of Tampico, Illinois.......the birthplace of President Ronald Reagan. Today is the annual birthday party held in his honor. We're also going to visit his boyhood home in Dixon, Illinois.
I suggest reading David McCullough's book, John Adams, for an important insight into the tremendous sacrifice made by those who serve as our Presidents, and their families. You'll also note that I have provided a link on my sidebar to the Lincoln Bicentennial Page. Next Thursday, February 12, is the 200th anniversary of the birth of Abraham Lincoln. There will be yearlong celebrations all across this nation. Check the link for activities in your area.