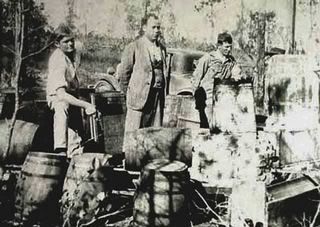 The time: Late 1930's, early 1940's
The place: The pineywoods of the Florida panhandle.
Here's my great-uncle Jack. He was a real character and a businessman of sorts. His business? Distiller of spirits, a.k.a. moonshiner!
He took himself seriously and as you can see he'd show up at the job site in a three piece suit! He kept meticulous records and receipts for the smallest items. I have some of them and they are included in the design of my banner.
Uncle Jack lived in a very nice dog-trot style house. These houses had a hallway that cut through the center of the house, open to the outside. In the north we would call such a hallway a breezeway. Each room of the house was accessible from this hallway. The rooms on each side were connected. The name derived from the fact that the hound dogs would lounge and trot down this hallway.
His property was beautiful with large palettos in the yard. And he had his own gas pump out near one of the outbuildings! I'd never seen anything like it but in the country (and in his line of business) he needed access to fuel.
I related this story to someone who was appalled that I would admit to having this particular skeleton in my closet. Skeleton? I didn't feel it was a skeleton. He was a real live character straight out of the American south. And besides, I've never been into revisionist history.