Historians love pack rats. The years of accumulation sometimes allows a reconstruction, as is the case of the Tampico Bank. When the bank closed the teller and bookkeepers cages were dismantled and stored in the basement, thereby preserving them. All the bank records and everything from the interior of the bank was stored in the home of the original owners.
The woman whose family had owned the bank kept everything, in true pack rat fashion. That was a bit of good luck for those who restored the bank. They even found the original blueprints which allowed them to reconstruct the cages.
It's like walking into a movie set. Here's the original desk where you would fill out your deposit tickets.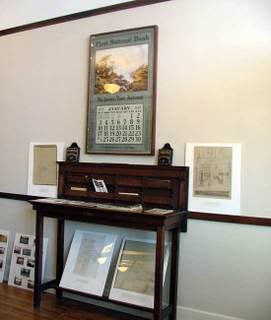 The bookkeeper's cage.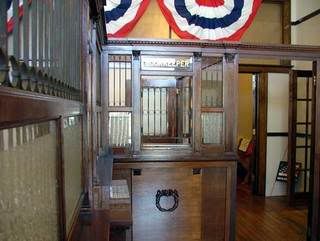 Here's the teller's cage.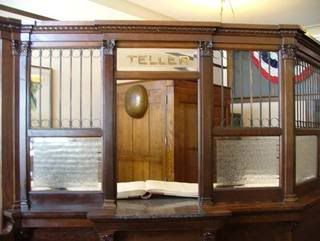 The woman had kept all the ledgers, including some that recorded deposits made by Nellie Reagan.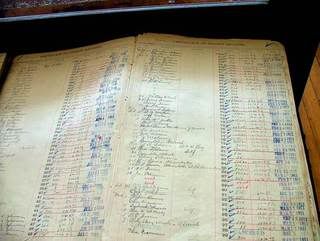 This is an old comptometer, the precursor to the electric adding machine.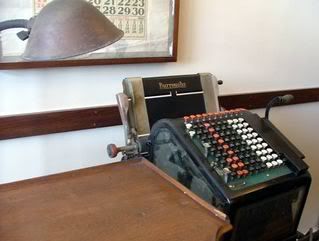 The scary thing is that on my first job the office clerk used a comptometer similar to this. Does that make me as old as dirt?
The large bank vault cost $1,200 and contained it's own non-electric alarm system.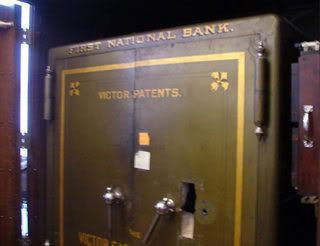 The most interesting thing to note is that in those days even the most utilitarian item was a thing of beauty. Look at the beautiful designs on the metal panels.
Adjacent to the bank is a small gift shop and museum space filled with Reagan memorabilia.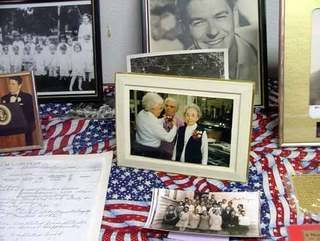 The last time the Reagan's were in Tampico was on Mother's Day of 1992. The Reagan's attended services at the church he had attended as a child with his mother.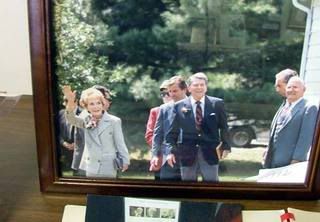 Our tour guide Bill made us promise to come back in the spring and we will certainly do that. Thanks to Bill, Bertha, Father Louie and all the volunteers who made for an interesting day.