We said goodbye to Bill, Bertha and the other volunteers in Tampico and headed to Dixon, Illinois. This is where Reagan attended high school and the place that he considered his hometown. The Reagan home was open for the day but unfortunately we arrived too late for a tour.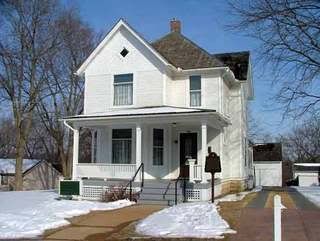 This is such a typical midwest home and very closely resembles the home where I was raised. There's a bronze plaque out front.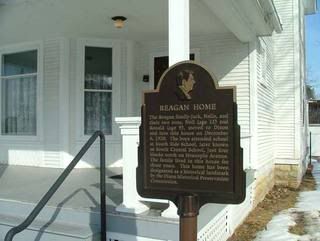 Reagan was the class president.
We drove into the downtown area looking for the Baker Street Cafe. My sister had recommended it as a good place to have lunch.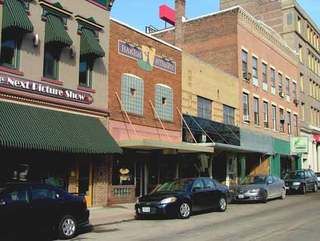 The sign out front says it's a "Boulangerie" but since it's in the middle of midwest small town America, I think that's a stretch. "Bakery" would have done just fine as a description.
My mom and I ordered sandwiches and they were OK. But I've just got this thing about paying $5 or $7 for two slices of bread and some lunch meat. They were served naked on a black plastic plate. I say naked because there wasn't a chip, a sprig of parsely or even a small cup of slaw or potato salad. The sandwich simply looked silly all by itself.
Since this was a "boulangerie" we decided to order dessert and give the place a chance to redeem itself. My sister raved about the 14 Layer Chocolate Cinnamon Torte. We looked in the case and found there was only one slice left.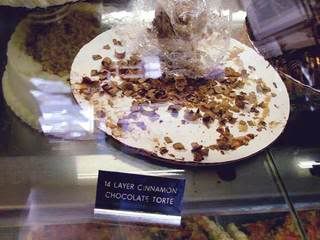 It was rich and sufficiently spiced with cinnamon, but being the last slice it had been sitting in the case for awhile and the chocolate curls had developed that white surface. Again, disappointing.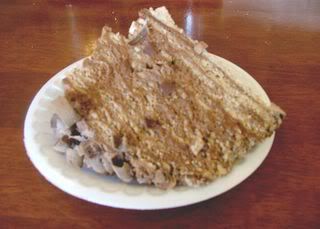 They also had an assortment of pies. This is the Holy Grail. When my stepfather passed away the task of searching the world for the perfect piece of pie fell on my shoulders. How could I leave this establishment without trying the pie? There was cherry, coconut cream, chocolate cream and apple.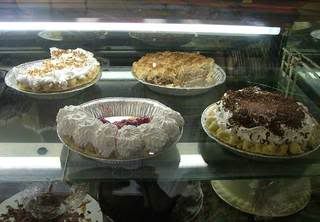 I asked the clerk to make sure they had been baked in house and weren't supermarket pies. The apple looked very interested so I ordered a slice.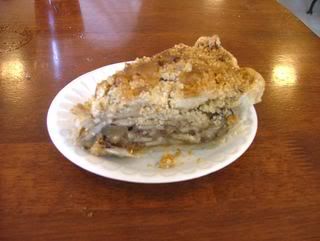 It was really great. Not the best pie I've ever eaten, that distinction goes to Hoosier Mama's Maple Pecan pie. This was however, the best piece of apple pie I've ever eaten. Forget the slimy supermarket version where the apples slide from the crust after the first piece is cut. You know what I'm talking about here! The apples were densely layered and instead of a gelatinous goo binding the pie together there was a nice dense mixture well laced with cinnamon.
The apples were delicious, tart and so flavorful. I swear all the apples in the grocery store are mealy and tasteless.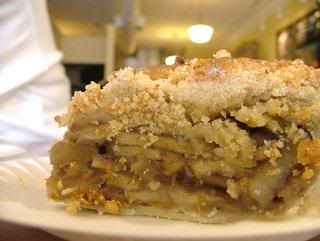 And streusel!!! I could probably eat an entire bowl of good streusel. This pie had just the right amount of streusel to top those delicious tart apples. Yum, yum.
There you have it. Another pie report from the road. Stay tuned because this spring I'm going to be visiting northern Wisconsin where the
Milk Man's Wife
is going to take me to Norski Nook where they make 30 VARIETIES of fresh baked pies!