Things are moving along in preparation for our dinner party on Saturday night. Several of the couples will not be able to attend due to the fact that we needed to postpone for a week while I continued to recuperate from pneumonia. As things stand there will be 16 guests instead of 20. It doesn't matter to me whether I'm cooking for 16 or 20. The dinnerware/flatware situation is not quite as complicated.
Over the years I've picked up all kinds of extra plates, bowls and serving pieces from Goodwill. I've got plenty of cabinets to store them but someday I was a real butler's pantry to keep everything in one spot.
At one point in my life I was scared to entertain. I'd be a nervous wreck. My old friend Annie was the most terrific hostess and she gave me some good advice. First she said, "Look, these people are getting out of their houses for the evening and they don't have to cook, so it's going to be pretty hard to disappoint them." True.
Then she said that the big secret was just to be organized and prepared. If you do much of the work ahead of time you're much better off. That's true too.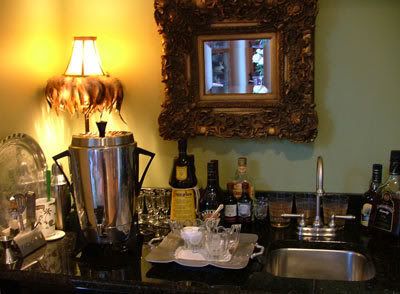 Photo from my archives.
What I do is make lists and a timetable. There's a grocery list, a copy of my menu and the recipes. I check the recipes and see if there's anything in common and how much is needed. For example, for this party I'm making several recipes that call for dice green bell pepper. So what I do is diced up all the pepper the day before and put it in a container in the fridge.
I prepare certain dishes ahead of time and heat them after the guests arrive, or prepare them shortly before their arrival and keep things warmed in the oven.
We decide upon a signature cocktail for the evening and I make up a big batch. For a Texas Barbecue I made Texas Tea which is similar to Long Island Ice Tea. This time around I'm serving cajun/creole and I'm mixing a large batch of Hurricanes.
No matter how organized you are disasters have a way of happening at the worst times. We had about 30 guests arriving for my daughters graduation party when the oven decided not to work. Yikes! I had two large pans of lasagne that needed to be baked. My plan B was to fire up the grill and cook them over coals. Luckily the cranky oven finally decided to work.
We've had some other classic disasters, including the first Christmas in our first home. We'd invited the family over and were so proud to show off our new house. Unbeknownst to us when they built the house a large rock was inside the sewer pipe leading to the street. After three weeks of flushing, toilet paper had packed itself around the rock and the pressure busted the pipe. We were busy inside and had no idea the pipe had burst.
OMIGOSH...our guests arrived in late afternoon to the sight of sewage and toilet paper floating around our yard! Talk about mortified.
The one thing about entertaining disasters is that they give you some great stories to tell for years to come.
I'm sure you've had some disaster doozies and I'd love to hear about them.