Driving home from the pharmacy I came across a controlled burn.
This is not common practice across the country but around here it's a sign of spring. We intentionally burn open fields, prairies and woodland undergrowth.
The burn destroys old grasses that would hold back new growth and the heat actually breaks open seeds. Crew members walk along and start the edge of the dried grass on fire.
The fire burns quickly but not long enough or with enough heat to start the trees on fire.
Other crew members follow behind to keep an eye on the situation.
It dies out quickly and looks like this:
Don't worry. If I come back to this location in a couple of weeks there will be bright green shoots popping up.
Some of the burns can be very dramatic and dangerous looking. Here's a community burn from a couple of years ago. The residents of a subdivision did a burn of a prairie adjacent to their properties.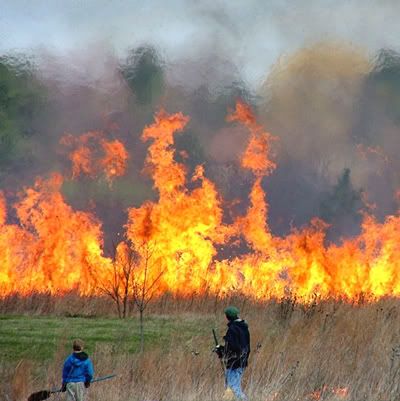 Residents walk the perimeter with wet brooms to keep down the stray sparks. It soon burns itself out. It's safer to do this than to risk the entire area burning uncontrolled in super dry situations or lightning strikes.
Do you burn in your neck of the woods?
It's looks really dangerous but