It's that time of year, the sap is running and it's time to make maple syrup.
The county had a demonstration at one of the forest preserves last weekend. I didn't dare attend but I knew a friend of mine would be going. She home schools her kids and this was a great learning opporutnity. She agreed to snap some pictures and take notes.
Certain atmospheric conditions cause the sap to start running up the tree from the roots. Sugar was stored in the roots last fall and when the tree gets the signal that spring is starting the sap moves up to help with leaf production. (This brings back memories of science class. Zylem and floem?)
The nighttime temperatures must be close to freezing and the day temps above freezing. The sap begins to flow. In order to place a tap without damage to the tree, it must be at least 30 inches around. Using a drill you make a small hole about waist high.
Here one of the children practices drilling a hole on a log that's laying at ground level. He looks like he's doing a good job.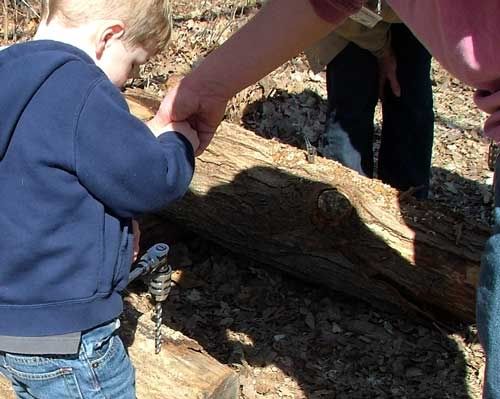 A small spout is placed into the hole. The modern spouts have a small lip that forces the sap downward and a hook on which to hang a bucket. The lid is to keep leaves and debris from falling in.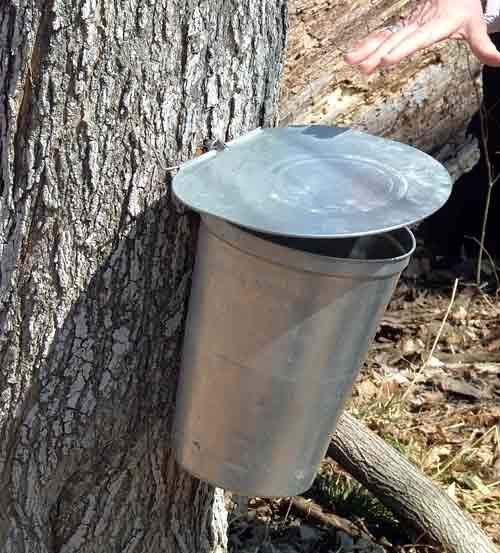 The sap runs into the bucket. You'll notice that it's crystal clear. Drawing off the sap does not damage the tree in any way. The amount running out of one tap is very small in comparison with what the tree produces. The larger trees can support two taps.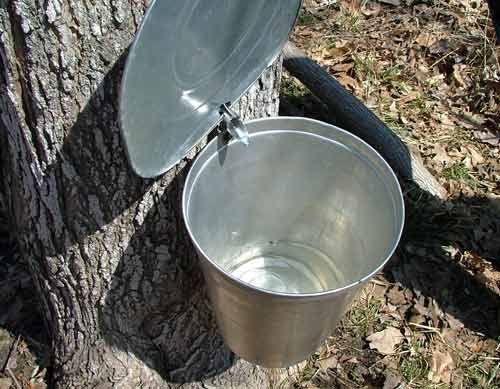 There are different ways to boil down the sap to produce syrup. There are very expensive evaporators and home made versions. This is very basic. They've stacked concrete blocks, built a fire in the center and placed a grate on top. The raw sap is in the large pail.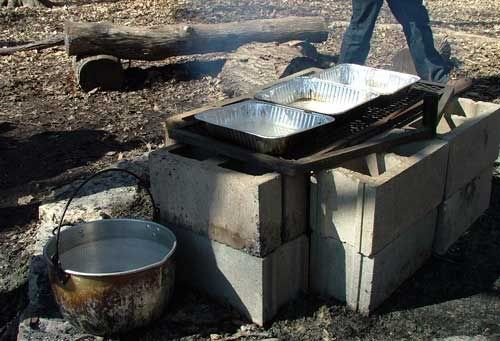 They've placed three aluminum baking pans on top of the grate and ladled the sap into the pans. This simmers and releases the moisture. If the fire is too hot the mixture will scorch and burn. You want a cooking vessel that is low and flat, allowing for a large surface area to dispel the moisture.
The mixture was constantly stirred.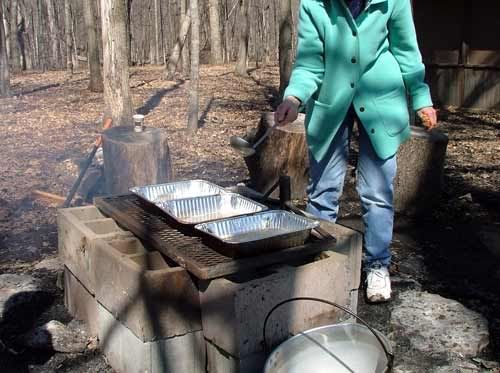 Real maple syrup is just delicious. It's the only thing my stepfather would allow in his house! Why is it so expensive? It takes over 4 gallons of sap to make just one gallon of syrup. In addition, the season is very short, usually only a few weeks. When the tree begins to bud out the process halts. Once the buds are produced the sap will produce bad tasting syrup.
How about you? Do you like real maple syrup? Have you ever seen a tree being tapped?
Thanks for coming along on this little field trip.