My son left for work very early Saturday morning and a short time later he called the home phone and said, "Mom, get dressed and get your camera. There's someone blowing up a hot air balloon over at Lily Lake School".
My family knows well that I will be on the photo hunt at the drop of a hat. This had the possibility of being the most exciting thing to happen around here since the gas station closed down. Why would that be exciting? Because that place was so poorly maintained we were all fearful that it would go up in smoke! The newspaper had been out several times to do investigative pieces on the property.
Scary gas station.
A hot air balloon would provide some much needed excitement in my life. I threw on a pair of jeans, a top and jacket and ran out the door, saying a quick goodbye to the Farmer. I envisioned myself as some kind of modern day Lois Lane and Jimmy Olson all rolled into one. I'd get the story!! I'd photograph the story!! This is a dream come true for someone who once labored under the weight of a corporate newspaper chain.
The Red Sled transported me to the school in a few minutes but alas, the parking lot was empty, no balloon. I did spot two people climbing into a large van. This must be the launch/chase vehicle. That meant the balloon was airborne and couldn't have gotten very far.
At this point I'll say that living on a mostly flat-as-a-pancake terrain has some benefits. I determined which was the wind was blowing and head off in that direction. At a nearby intersection (location of the aforementioned crumbling gas station) I spotted the balloon. It was actually over the spot where a local reader lives.
I followed along going south as the balloon drifted off to my left. I need to mention that it was VERY chilly on Saturday morning. I was thinking like a mom saying to myself, "They better have hats and gloves on."
I turned left and got this shot as they passed overhead and continued to drift south. As everyone always mentions, it's silent running.
Turning down another rural road put them off to my right. I was surprised how fast their direction changed. Now they're heading southwest, over a cornfield heading towards a small shopping area.
All of a sudden, after they passed the food store they lost altitude. They weren't quite as low as it appears in this photo.
They continued to drift over the town at a low altitude. It appeared that they were preparing to land but I couldn't think of a possible landing spot in this town.
Floating over the grain elevator. At this point I decided it would be fun to be their official chase vehicle. I didn't see the van anywhere, so perhaps they phone the crew when they finally land.
I'm looking to see if they're dressed warmly. Once a mom, always a mom.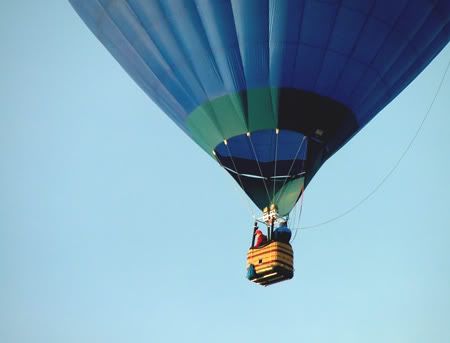 On the other side of town they descended even further over a corn field just south of the train station.
Silently they drifted down.
Just a few feet from the ground and across the road from some electric lines.
They didn't land!!! They fired up the flames and climbed fast, clearing the danger easily. It appears that they were practicing the maneuver. The balloon headed south again and quickly drifted towards the east which is a heavily populated area.
It was so early and I was needing coffee so I left them to their adventure, with lots of unanswered questions.
- How much fuel do they carry and how long can they remain airborne?
- What do they do if they drift over a large city with no good landing site?
- Does your mom know you're doing this dangerous stuff?
How about you? Have an urge to go ballooning?
Thanks for coming along with me in my unofficial chase vehicle!