People are generally taken aback when I mention the fact that I did seven year hard time. I don't look like your run of the mill criminal and I'm not.
My hard time wasn't spent jail, it was WORKING RETAIL. It wasn't a lovely, high end establishment selling $40 cake pans. Nope. It was working for the world's largest retailer - Gag Mart.
Long story short, our family was in dire need of family insurance coverage and subsequently I was stuck in the job until pre-existing condition laws changed.
I could write a book and perhaps someday I will do just that, but for today I'll share a chapter I'd entitle: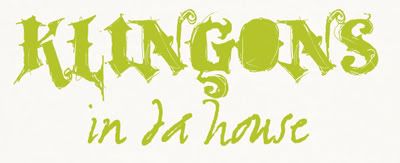 My co-worker Liz and I shared the responsibilities of managing the fabrics and crafts department. Being surrounded by fabric made me very happy, dealing with the general public did not.
One afternoon a man entered our department and began rifling through the bolts of fabric that were stacked on large tables in our department. It quickly became apparent that he was becoming agitated. He marched up to the cutting table and demanded to know where we kept our fake fur and fake leather.
Liz informed him that they were not a part of our regular inventory and that normally we only carried them around Halloween. It was at this point that all hell broke loose.
"Don't you realize that the Klingon convention is less than four weeks away?" the man bellowed.
Liz and I stood stock still, unsure of what our response should be and equally unsure as to whether this man carried a Klingon death ray. My mind raced, "Klingons? KLINGONS?? There are Klingons in the Fox River Valley? Who knew?"
The plain clothes Klingon demanded to speak with the store manager and Liz gladly paged Joey-the-chauvinist to the department. The Klingon proceeded to scream at our chauvinist store manager and I basked in the glow of the two morons.
Klingons are tenacious and this one demanded a meeting with the district manager. Sure enough, two weeks later Liz and I found ourselves seated around a cheap banquet table in a depressing room in the back of the store. There we sat, with a Klingon wannabe, a chauvinistic store manager and a district manager who thought this was a good idea.
I will assure you that there's not enough money in the world to pay you to sit at table with a Klingon.
The Klingon had his day. The buyers scrounged a ton of fake fur and leather which they unceremoniously dumped on our department. The Klingons had their convention and all was well with the world.
Two weeks later a Civil War re-enactor marched into our department.
Just a hint - never use the word "costume" in their presence, OK?