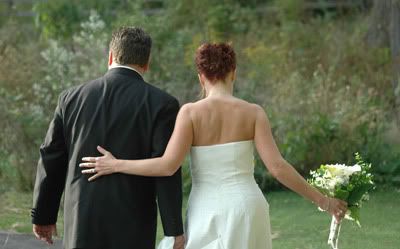 No, that's not the Farmer and that's not me. I took this photo a couple years ago at a beautiful park that is the location of lots of wedding day photo shoots. I don't have a clue who these people are!
I needed something to illustrate my ponderings about my lingering wanderlust. A psychologist would have a field day with all y mentions of boots, vintage travel trailers and the Laura Ingalls Wilder trail. I just feel the need to get outta Dodge.
I'm pretty sure I'm not the only one who's feeling the pinch of being in the sandwich generation.
I love the Farmer. We have such fun together and after 30 years we've got most of the kinks worked out. If it's just him and I there's rarely a problem. Unfortunately, there are complicated career issues, health issues and now we're starting to be squished by our responsibilities of aging, no....aged parents.
I'm squished I tell you.
I do not believe that everything and every detail of someone's life is blog fodder. I'm a little sad that some in my generation were the ones to start the idea that anything goes. There are days when it seems like a free-for-all out there. Being open and honest is important, no one knows this better than me. But what you'd say in a therapists office is not necessarily proper at a cocktail party or a blog.
There are times when I feel like a dinosaur because I believe in manners, propriety, modesty (whoa....that's in short supply), humility and a regard for others. I've been known to raise my eyebrow at behavior that would have been unheard of in my day. What happened to "proper"? I want some proper back.
Where is all this rambling leading me? Back to being squished. Some of you have asked about the Other Mother because there are some funny tales to be told. But now the tales would only be sad and scary. Sometimes as children our duty is to preserve our aging parents dignity. And sometimes we're required to do that without anyone's help. That is hard as well.
So for now, until I can ride off into the sunset with the Farmer, hauling a vintage travel trailer, I'll pretend to be a Boy Scout and repeat my pledge (with a few changes):
On my honor, I will do my best
To do my duty to God and my family and to obey the Laws of Propriety and Humility;
To help other people at all times;
To keep myself physically strong, mentally awake and morally straight.
Amen.