That blog title creates quite a mental image, doesn't it?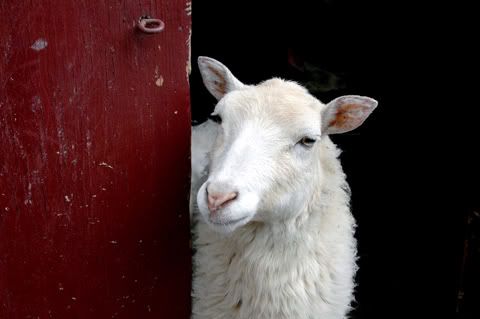 Yesterday we visited Natasha and Donna at their fiber arts shop but Lamb of God farm is the place they call home. It's also home to their flock of 13 ewes. Pay attention to that number, it's importance is going to become clear in just a moment.
As we worked on our needle felting project Natasha related their latest "down on the farm" story. It's very funny, unless you're the shepherd for this flock.
Last fall they got a new little lamb, of the male variety. It was decided that they'd mate him with two of the ewes which meant that this spring they'd have two to four lambs, depending upon if there were any twins. They felt it was a manageable number. The new guy was feeling his oats, so to speak, and on his second day at the farm he jumped the fence and spent the evening with his new harem. As in ...... the ENTIRE FLOCK!
Natasha says, "We went in the next morning to a quiet barn". She didn't say whether they were all smoking cigarettes but several weeks ago when their shearer came to harvest the wool they discovered that all the ladies are expecting......any moment!
Any day now they'll be up to their elbows in lambs. Let's do the math..... 13 pregnant ewes, 1-2 lamb per ewe equals between 13 and 26 lambs. That's a lot of lamb.
They'll be having a few open house days and I'll take a trip out there and get pics of the blessed newborns.
My question is, do you think 13 is an unlucky number?
EDIT: Oooops, I forgot a really bad pun that I dreamed up for this post.

Bad boys, bad boys....
Whatcha gonna do when they come for ewes?