The weatherman has promised that spring is on the way. He's lied before but I'll take his word on it this time around. I've decided now that we've seen the last of winter I'm going to take you on a road trip once a week. It may be a major road trip like my planned visit to Wisconsin to meet the Milk Man's Wife and little Milk Dud or it may be something as simple as going to lunch at Alice's Place. My intent is to show you the places and people that make up our communities and our life in the midwest.
Last Friday the weather was nice and I headed out to record our first official road trip together.
The distance - 17.18 miles
The place - Big Rock, Illinois
Our destination - Esther's Place
Big Rock is a small town just south and west of us. There's a RV dealership, a couple of small manufacturing businesses, a post office, a cafe, a grain elevator (of course) and Esther's Place.
The Lehrer family moved to Big Rock nine years ago, leaving their suburban and corporate lives behind to live their dream on on a property they named Lamb of God farm. They raise organic produce and a flock of sheep. Their country life evolved and daughter Natasha and her mom Donna opened Esther's Place which is a shop devoted to fiber arts. You might remember we visited once before when my friend Ellen and I took a drop spindle spinning class.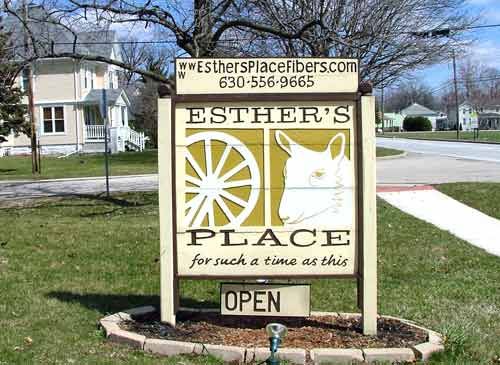 The shop is located in this beautiful old Victorian home. It's just as lovely inside.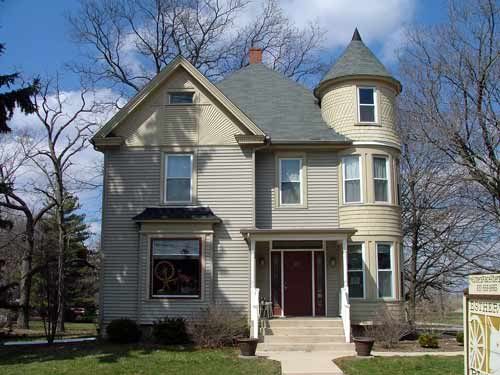 The front window has a vignette featuring a beautiful spinning wheel.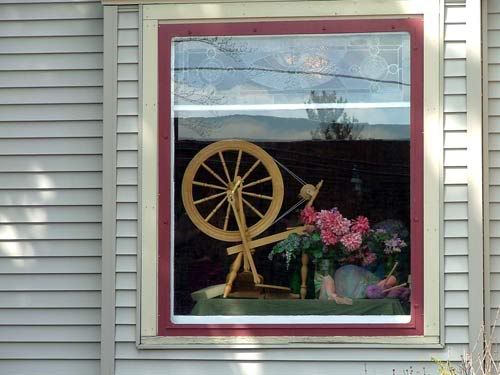 Sunlight spills on these beautiful skeins of yarn. Such yummy colors.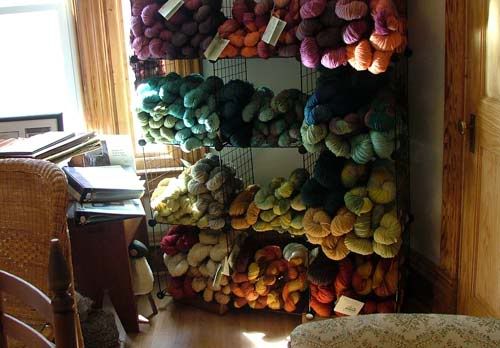 The roving is displayed in an old nesting box. (Roving is wool that hasn't been spun into yarn.)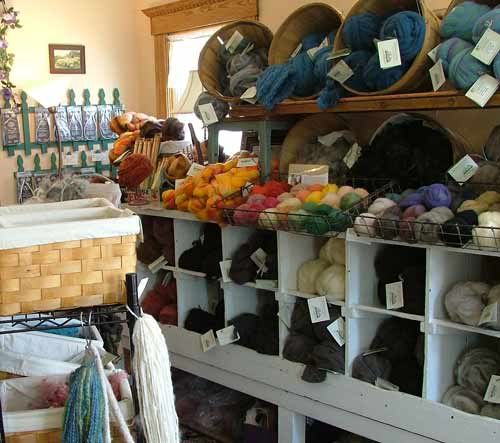 Here's the lovely Natasha. She invited me and another customer to sit down and do a needle felting project. I'd never done this before and was interested in the technique.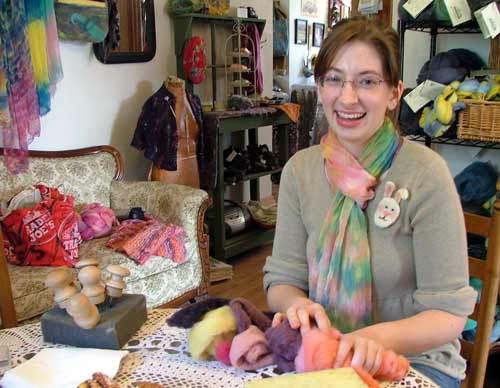 We arranged tufts of wool on a thick foam pad. Look - Natasha and her mom made tea for us!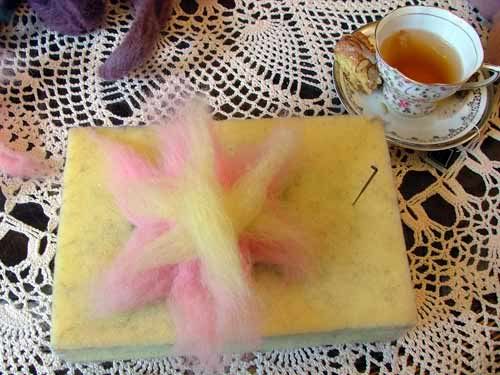 Natasha demonstrates how to layer a few more colors and begin needle felting using the sharp tools.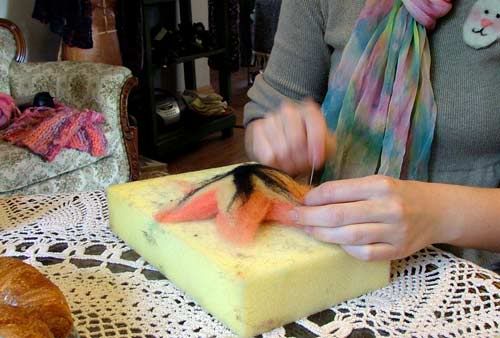 If you look at wool under a microscope you'd see that it has barb like structures. The needle has tiny ridges which cause the barbs to hook together as you push the needle up and down.
Here's the larger tool. See how the wool starts to flatten out?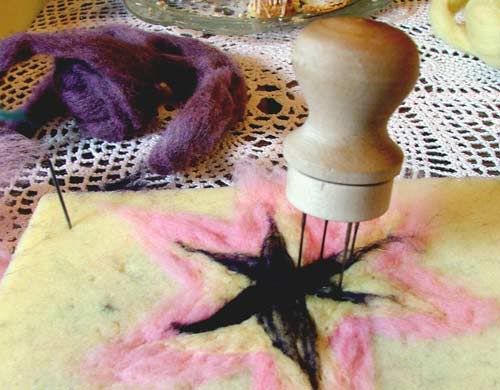 As the work progresses you can shape it with your fingers.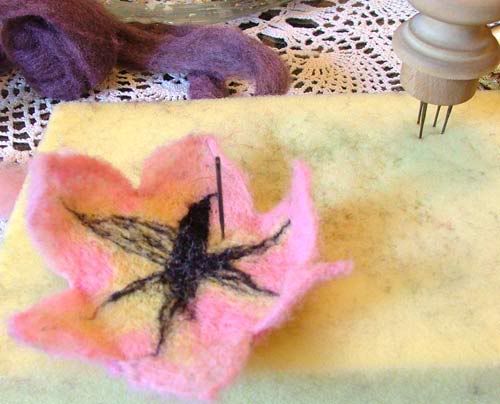 We added a bit of curly wool to the center.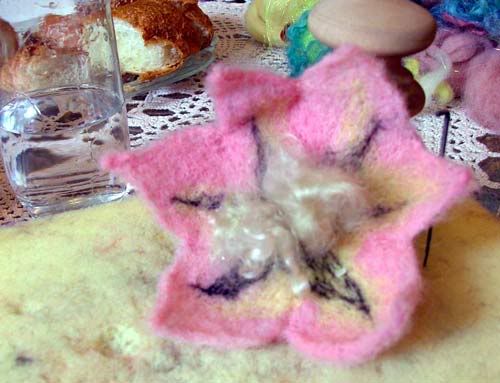 Here's a finished flower that has been embellished with beads. I love this color combination.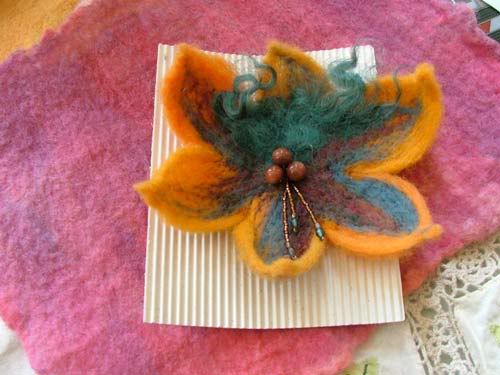 You are not going to believe what you can do with needle felting. Look at this.....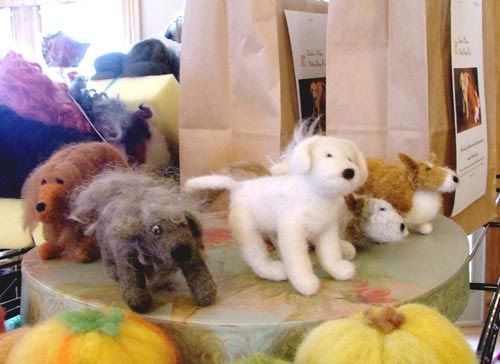 These little animals were made using the needle felting technique. These things are stinking cute!! They sell them as kits.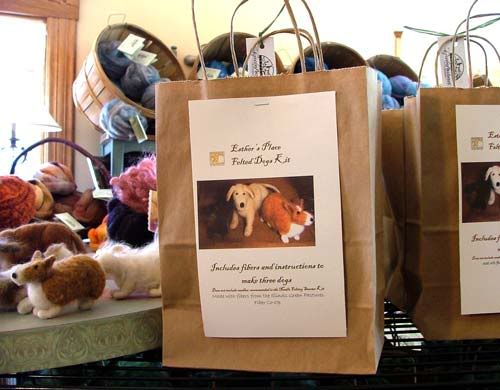 I was on a strict budget this day but I'm going back because I want to make one of those little doggies. The Corgi is adorable. Oh heck, they're all adorable.
If you're in northern Illinois be sure to get off the beaten path and head to Esther's Place in Big Rock. If you can't visit in person be sure to visit their website.
ESTHER'S PLACE
Here are their needle felted kits: (Be prepared for an overdose of cute)
PENGUINS, DOGS AND MORE
Thanks for coming along with me today. You'll never know where our next road trip might take us.......to an old Norwegian cabin or perhaps a storm chasing adventure??